Widely celebrated for their nutritional profile, apples are more than just a fruit that adds crunch to your daily diet. Here are 10 healthful reasons why the apple continues to be a cornerstone of healthy eating.
Health Benefits
Fiber: Apples are rich in dietary fiber, which can aid in digestion and promote feelings of fullness.
Vitamin-Rich: Apples are a good source of vitamin C and contain small amounts of vitamin A, iron, calcium and potassium.
Low in Calories: A medium-sized apple contains about 95 calories.
Antioxidant-Rich: Apples contain antioxidants, which help to fight oxidative stress and inflammation.
Hydration: Apples have high-water content, about 85%, which can help keep you hydrated.
Heart-Healthy: The fiber, potassium and antioxidants in apples are good for heart health.
Weight Management: Due to their fiber content and low-energy density, apples can help with weight management when part of a balanced diet.
Bone Health: Certain antioxidant and anti-inflammatory compounds found in apples may promote bone health.
Brain Health: Some studies suggest that eating apples may help boost brain function and protect against neurodegenerative diseases.
Gut Health: Apples contain pectin, a type of fiber that acts as a prebiotic, feeding the good bacteria in your gut and promoting digestive health.
Apple-Glazed Roast Chicken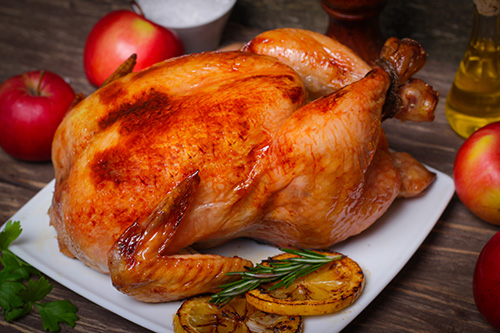 Ingredients
1 whole chicken
2 apples, cored and chopped
1 onion, chopped
1 sprig rosemary
1 sprig thyme
1 T olive oil
1 c apple juice
2 T honey
1 T cornstarch
Salt and pepper to taste
Step 1: Preheat oven to 375°F (190°C).
Step 2: Stuff the chicken with apples, onion, rosemary and thyme.
Step 3: Rub the outside of the chicken with olive oil, salt and pepper.
Step 4: Roast for about 1-½ hours or until the juices run clear.
Step 5: In a saucepan, simmer apple juice and honey until reduced by half.
Step 6: Mix cornstarch with a little water, then add to the saucepan to thicken the glaze.
Step 7: Brush the apple glaze on the chicken for the last 15 minutes of roasting.