Butternut squash has a lot of powerful antioxidants, including vitamin C, vitamin E and beta-carotene. Antioxidants help prevent or slow cellular damage and reduce inflammation, which may reduce your risk of several chronic diseases. Yellow and orange vegetables and fruit — including butternut squash — have been shown to be particularly effective at protecting against heart disease.
Health Benefits
Fiber Rich
One cup of cooked butternut squash has only 83 calories and provides 7 grams of filling fiber — making it an excellent choice to lose excess weight and body fat. It contains both insoluble and soluble fiber. Soluble fiber has been associated with fat loss and decreased appetite.
Ways to Incorporate Butternut Squash in Your Diet
Cut butternut squash into cubes and roast it with olive oil, salt and pepper for a quick, tasty side dish.
Top salads with roasted butternut squash for a boost of fiber.
Add puréed butternut squash to baked goods, such as bread and muffins.
Toss chunks of butternut squash into hearty stews.
Experiment in the kitchen by using butternut squash in place of other starchy vegetables, such as potato, pumpkin or sweet potato.
One-Pan Chicken with Squash and Mushrooms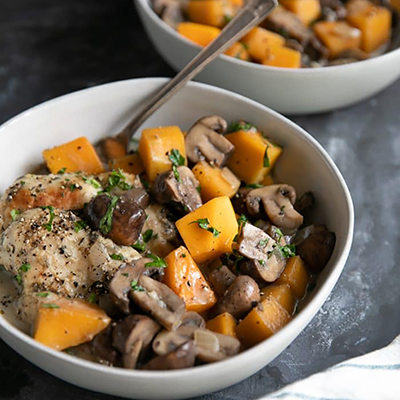 Ingredients
1 lb butternut squash, peeled and cut into 1-in chunks
2 T olive oil, divided
2 tsp Herbs de Provence, divided
1-¼ tsp coarse kosher salt, divided
½ tsp ground pepper
1-½ lb boneless, skinless chicken thighs
1 8-oz container baby bella, cremini or white mushrooms, quartered
Directions
1. Preheat oven to 425°F. Lightly coat a large baking sheet with cooking spray.
2. Toss squash with 2 teaspoons of oil, ¾ teaspoon of salt and ¼ teaspoon of pepper. Spread out on the baking sheet, place in the oven and roast 15 minutes.
3. Meanwhile, brush 2 teaspoons of oil over the chicken and sprinkle with 1 teaspoon of herbs, ¾ teaspoon of salt and ¼ teaspoon of pepper.
4. Remove the baking sheet from the oven, add mushrooms, the remaining 1 teaspoon of herbs, and the remaining 2 teaspoons of oil. Toss the squash and the mushrooms until the mushrooms are moist. Spread back out into an even layer. Nestle the chicken into the vegetables. Return the pan to the oven and continue roasting until the chicken is cooked through and is no longer pink in the center, and the squash is tender, about 20 minutes.
Nutrition Information
Per Serving: Calories: 353g; Fat: 17g; Carbohydrates: 15g; Fiber: 3g; Protein: 35g