There are two basic types of olives: green and black. The color varies with ripening and when they are picked.
Green olives are unripe and mostly used for extracting olive oil. They have a firm texture and bitter taste.
Black olives are fully ripe and are softer and less bitter compared to green olives.


Benefits
Olives have an abundance of minerals, such as iron, iodine, phosphorus, magnesium and sodium. They also bring in much-needed calcium, along with vitamins, such as A and E, amino acids and oleic acid.
Antioxidants Eating olives can lead to stronger memory and mind behavior because of polyphenols, which reduce the oxidative stress in brain cells.
Aging Olives help with appearance and reduce wrinkles thanks to oleic acid. They also have plenty of vitamin E, which helps fight free radical damages and keeps skin healthy.
Weight Loss Eating 10 olives before every meal would give the body all the monounsaturated fatty acids it needs to help with digestion and stimulate hormones to lose weight. The essential fatty acids in olives can help with energy loss, too.
Heart Disease The antioxidants and fatty acids in olives reduce LDL and increase HDL, making olives ideal for chronic heart patients.
Degenerative Diseases Olives are quite effective in fighting diseases, such as Alzheimer's and dementia, because of an abundance of natural vitamins and minerals required by the body to fight harmful diseases.
Immune System
Olives have sodium, magnesium and much more, making them one of the best fruits to help combat immune system problems and protect from different viral diseases.
Greek Macaroni and Cheese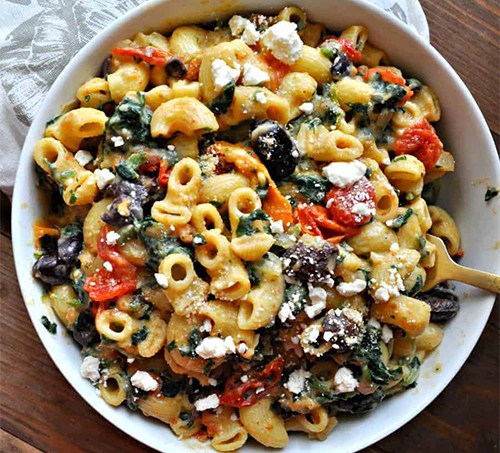 Ingredients
2 T extra-virgin olive oil, divided
½ large red onion, thinly sliced
1 large green bell pepper, thinly sliced
1 large red bell pepper, thinly sliced
1 T minced garlic (about 6 garlic cloves)
1 T red wine vinegar
½ tsp dried oregano
1 c pita chips, crushed
10 oz frozen spinach, thawed (1 package)
½ c sundried tomatoes
2 cups non-fat milk, divided
¼ c all-purpose flour
1 ½ c extra-sharp white Cheddar cheese, shredded, about 6 oz
1 ½ c low-fat cottage cheese
¼ tsp kosher salt
¼ teaspoon freshly ground black pepper
1 c feta cheese, crumbled, about 4 oz
¼ c sliced Kalamata olives, chopped
12 oz whole-wheat elbow macaroni or penne
¼ c fresh parsley, fresh dill or thyme, chopped for serving
Step 1: In a large sauté pan, heat 1 tablespoon of olive oil over medium heat. Add onions and cook until beginning to turn translucent, 5 to 8 minutes. Add red bell pepper, green bell pepper and garlic, and cook until the peppers are tender, about 8 additional minutes. Add red wine vinegar and cook 2 additional minutes. Set aside.
Step 2: Bring a large pot of water to boil. Place rack in center of the oven and preheat to 400°F. Coat a 3-qt baking dish with cooking spray. (A deep 9x9-in pan will work as well.)
Step 3: Mix breadcrumbs, remaining 1 tablespoon of olive oil and oregano in a small bowl. Place spinach in a fine-mesh strainer and press out excess moisture. Place sundried tomatoes in a small bowl and cover with boiling water to rehydrate tomatoes. Set aside.
Step 4: In a large, heavy saucepan, heat 1 ¾ cups of milk over medium-high heat until steaming (do not boil). In a small bowl, whisk together the remaining ¼ cup of milk and flour until smooth.
Step 5: Add to the hot milk and cook, whisking constantly, until the sauce simmers and thickens, about 3 to 5 minutes. Remove from heat and stir in cheddar until melted. Stir in cottage cheese, salt and pepper.
Step 6: Cook pasta for 6 minutes, until not quite tender. (It will continue to cook during baking.) Drain pasta, then add to cheese sauce; mix well. Drain the sundried tomatoes, fold them into the mixture, along with sautéed onions and peppers, spinach, feta cheese and olives. Spoon the mixture into the prepared baking dish, then top with crushed pita chips.
Step 7: Bake the casserole until bubbly and golden, 25 to 30 minutes, checking at 15 minutes to be sure the pita chips do not toast too quickly. If they are, cover the pan with foil and continue baking. Garnish with chopped parsley and serve warm.