Chickpeas, also called garbanzo beans, are one of the oldest consumed crops in the world and one of the most popular across nearly every continent. They are a great source of plant-based protein and fiber, iron, zinc, phosphorus, B vitamins and more.
Health Benefits
Help Control Blood Sugar Levels Chickpeas, like all legumes, are a form of complex carbohydrate that the body can slowly digest and use for energy.
Increase Satiety and Help with Weight Loss Chickpeas are high in both protein and fiber, which helps to make you feel full and curb food cravings and unhealthy snacking.
Improve Digestion Chickpeas are a high-fiber food with roughly 6 to 7g per half cup serving. Unfortunately, less than 5% of Americans get the daily recommended amount of dietary fiber that they need to consume through food each day.
Help Protect Against Heart Disease and Cancer Chickpeas have been shown to help balance unhealthy cholesterol levels, reduce hypertension, and protect against heart disease. The high amount of fiber in chickpeas helps people avoid overeating and gaining harmful excess weight, especially around vital organs.
Provide Essential Vitamins and Minerals Chickpeas boast high levels of iron, zinc, folate, phosphorus and B vitamins, all of which are especially important for vegetarians and vegans who may lack these essential nutrients due to avoiding animal products.
Great Source of Plant-Based Proteins Protein is an essential macro-nutrient that plays an important role in nearly every function in the body, such as vital organs, muscles, tissues and hormone levels. Consuming enough healthy protein helps you naturally slow aging.
Chickpea Curry with Rice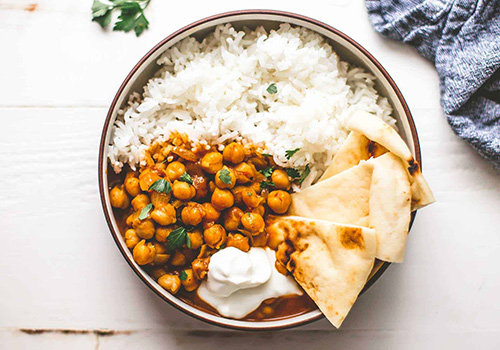 Ingredients
1 large onion, chopped
4 garlic cloves, smashed
1 T fresh ginger, grated
1 tsp olive oil
1-½ c heavy cream (or 13-oz can thick unsweetened coconut milk)
2 tsp garam masala
2 tsp ground turmeric
1 tsp ground cumin
1 T honey
1 tsp salt
¼ to ½ tsp crushed red pepper (optional)
28 oz chickpeas, drained
3 c sweet potatoes, peeled and chopped
Step 1: Add oil to a skillet and place over medium heat. Sauté onions, garlic and ginger until soft, 3 to 5 minutes, then remove from heat.
Step 2: Place the onion mixture in a blender, along with cream or coconut milk, all spices, honey and 1 teaspoon of salt. Cover and puree until smooth.
Step 3: Pour the curry blend in a slow cooker, add chickpeas and sweet potatoes. Mix well. Place lid on the slow cooker and turn on high for 4 to 5 hours or low for 6 to 8 hours.
Step 4: Once the sweet potatoes soften, serve warm over basmati rice or Indian-style flatbread (naan or chapatis).