Avocado is one of the most nutrient-dense foods available. Ounce for ounce, it is among the richest in fiber, folate, potassium, vitamin E and magnesium. Not only are avocados full of nutrients with far-reaching health benefits, they're also tasty and can be added to almost any dish.
Healthy Fat: While oils and fat may sound like something to avoid in a healthy diet, avocado's nutrient richness comes from healthy monounsaturated fat. Yes, there are healthy oils and fats! The monounsaturated fat in avocados is oleic acid, which helps lower cholesterol. One study found significant decreases in both total and LDL ("bad") cholesterol and an 11% increase in HDL ("good") cholesterol after seven days on a diet that included avocados.
Other Nutrients in Avocados
Fiber: Maintains bowel health, lowers cholesterol, helps control blood sugar and aids in achieving healthy weight.
Folate: Great for reproductive and cardiovascular health, normalizes cholesterol, provides neurological support and reduces the risk of age-related macular degeneration.
Vitamin E: Fat-soluble antioxidant to protect against toxins (e.g., air pollution), premenstrual syndrome, eye disorders (e.g., cataracts), neurological diseases (e.g., Alzheimer's disease) and diabetes.
Magnesium: Helps increase energy; calms nerves and anxiety; relieves constipation and aids digestion; relieves muscle aches and spasms; regulates calcium, potassium and sodium levels; aids in heart health; prevents migraine headaches; and helps prevent osteoporosis.


Baked Avocado and Chicken Salad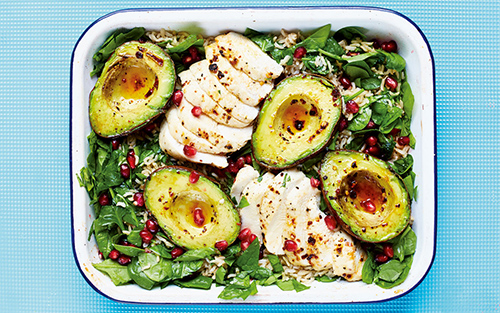 Ingredients
2/3 c brown rice
2 avocados
½ tsp red pepper flakes
½ tsp salt, divided
½ tsp pepper, divided
8 T olive oil, divided
2 limes
½ c mint leaves, finely chopped
1 c pomegranate seeds
½ lb chopped baby spinach
1 lb grilled chicken


Directions
1. Preheat oven to 400°F. Cook rice according to package directions and set aside to cool.
2. Meanwhile, halve the avocados, remove the pits, place in a baking dish and sprinkle with red pepper flakes, ¼ tsp salt and ¼ tsp pepper. Drizzle with 2 tablespoons of olive oil until well-coated. Bake 25 minutes.
3. To make the dressing, whisk together the juice of two limes, 6 tablespoons of olive oil, mint leaves, pomegranate seeds, ¼ tsp salt and ¼ tsp pepper.
4. Remove avocado from baking dish, slice and discard skin. Add cooked rice to pan, half of the dressing and baby spinach. Toss to combine. Top with grilled chicken. Arrange avocado around chicken and drizzle with remaining dressing.
Nutrition Information
Serves 4.
Per serving: 736 calories; 47g fat; 118mg cholesterol; 42g protein; 44g carbohydrates; 13g sugar; 12g fiber; 405mg sodium