Known as pepper, sweet pepper or capsicum, bell peppers come in a variety of colors, including green, yellow, orange, red, purple, and white and brown.

Green and purple peppers have a more bitter taste, while the yellow, orange and red have a sweeter taste. Bell peppers are an excellent source of vitamin C and vitamin B6.
Vitamin C is an antioxidant that repairs and maintains cartilage, bones and teeth while also helping heal wounds and form scar tissue.
Vitamin B6 is involved in protein metabolism, brain development during pregnancy and immune function.
Bell peppers contain antioxidants including carotenoids and flavonoids, which reduce the risk of cancer and cardiovascular disease.
Purchasing, Choosing, Storing and Preparing
Purchase bell peppers year-round in a grocery store or seasonally at a farmer's market.
Choose bell peppers that are firm and heavy with smooth skin free of blemishes and bruises.
Store in the refrigerator for up to one week before use.
Prepare bell peppers by washing them before use. Remove the stem, seeds and white membrane, or pith, from the inner part of the pepper. Cut into strips, rings or dice into squares.
Slice or dice bell peppers to freeze raw for later use. They do not need to be blanched. Use frozen peppers within eight months of freezing for best taste.
Eat bell peppers raw or cooked. Try them roasted, baked or sautéed.
Chicken Stir-fry with Broccoli and Bell Peppers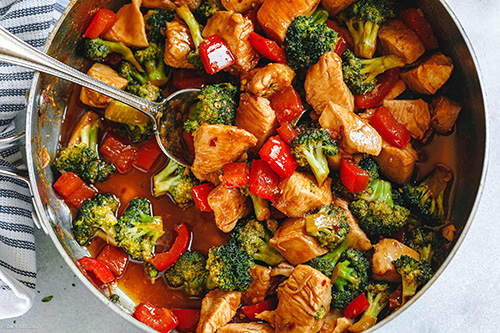 Ingredients
1 lb (450g) boneless skinless chicken breasts, cut into 1-in pieces
2 T vegetable oil
2-½ c broccoli florets, chopped into bite-size pieces and rinsed
1 large red bell pepper, seeded and diced
3 cloves garlic, minced
1 T fresh ginger, peeled and finely minced
1 tsp red chili pepper flakes, optional
Sauce Ingredients
¾ c low-sodium chicken broth
3 T low-sodium soy sauce
1 tsp honey
1 T toasted sesame oil
2 T cornstarch, optional
1 T sriracha sauce, optional
Step 1: To make the chicken stir-fry, in a small bowl, whisk soy sauce with cornstarch, then whisk in chicken broth, sesame oil, sriracha and honey. Set aside. Pat chicken dry with paper towels and season with a pinch of salt and black pepper.
Step 2: Heat 1 tablespoon of oil in a large non-stick skillet over medium-high heat. Add chicken to the skillet, spacing pieces apart in an even layer. Cook chicken through, turning halfway during cooking, about 6 minutes. Transfer chicken to a plate, leaving the oil in the skillet.
Step 3: Add another tablespoon of oil to the skillet. Add broccoli, bell pepper, ginger and garlic, and sauté the vegetables until nearly tender, about 4 minutes.
Step 4: Quickly stir-fry the sauce, then pour into the skillet and cook, tossing constantly, until the sauce thickens, and vegetables are tender, about 1 to 2 minutes.
Step 5: Add cooked chicken and season with more stir-fry sauce to taste. Serve the chicken stir-fry with broccoli and peppers immediately over rice, cauliflower rice or on its own. If desired, sprinkle with red pepper flakes or sesame seeds or drizzle with sriracha.