Often underappreciated, beets are a powerhouse of health benefits and can easily be incorporated into a variety of dishes.
10 reasons to include beets in your diet
Rich in nutrients: Beets are a good source of vitamins and minerals, including folate, manganese and vitamin C.
Supports heart health: The nitrates in beets can help dilate blood vessels, reducing blood pressure.
Boosts endurance: Studies suggest that beet juice can improve oxygen flow and endurance during exercise.
Anti-inflammatory: Beets contain betalains, which have anti-inflammatory and antioxidant properties.
Improves digestion: High in fiber, beets help promote digestive health.
Brain health: Nitrates in beets may improve cognitive function and reduce risks of dementia.
Cancer prevention: The phytonutrients in beets show promise in fighting off certain types of cancer.
Detoxifies the body: Beets support detoxification, helping to purify the blood and liver.
Promotes weight loss: Low in calories, but high in water and fiber, beets make you feel full longer.

Good for skin: The antioxidants in beets can help combat premature aging and help in the skin's natural detoxification process.
Grilled Chicken Breast with Beet, Feta and Corn Salad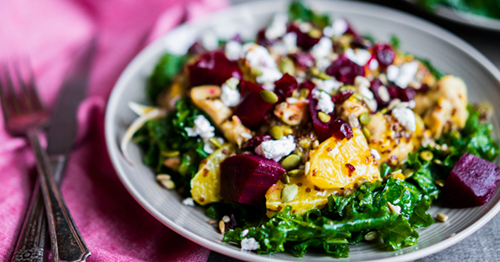 Ingredients
6 oz chicken breasts
1 c beets, diced
¼ c feta, crumbled
½ c corn
1 c baby arugula
1 T olive oil
Salt and pepper to taste
Directions
Step 1: Preheat grill and oven to 375°F.
Step 2: Grill chicken breast until it has good grill marks but not fully cooked.
Step 3: Transfer to the oven and bake until the internal temperature reaches 165°F.
Step 4: In a bowl, mix diced beets, corn, baby arugula and crumbled feta.
Step 5: Drizzle olive oil, salt and pepper over the salad and combine.
Step 6: Place the salad on top of the fully cooked chicken breast.
Nutrition: Calories: 520kcal; protein: 38g; carbohydrates: 35g; fat: 24g; fiber: 6g