Brussels sprouts are in the cruciferous vegetable family with cauliflower, kale, broccoli, cabbage, collard greens and bok choy. Low in calories (less than 40 per cup), Brussels sprouts are also low carb, packing just 8 grams per cup raw, including 3 grams as fiber.
Health Benefits
Brussels sprouts are rich in antioxidants.
One study found that when volunteers ate about two cups of Brussels sprouts per day, damage at the cell level was reduced by nearly 30%.
They're high in fiber.
The fiber in Brussels sprouts (about 4 grams per cooked cup) helps regulate blood sugar levels, supports digestive health and helps feed the beneficial gut bacteria tied to positive mood, immunity and anti-inflammation.
They're packed with vitamin C.
One cup of cooked Brussels sprouts packs more than 150% of the minimum daily vitamin C. This important nutrient acts as an antioxidant, supports immunity, vision, and iron absorption and promotes collagen production.
Brussels sprouts are loaded with vitamin K.
Per cup, cooked Brussels sprouts have more than 250% of the recommended daily value of vitamin K. In addition to helping clot blood, this nutrient plays a role in bone health and may help protect against bone loss.
They may reduce inflammation.
The anti-inflammatory power of Brussels sprouts may reduce risk of chronic diseases, including heart disease and cancer. These anti-inflammatories, which protect cells from DNA damage, also fend off aging and may help manage inflammatory conditions, including type 2 diabetes, rheumatoid arthritis, inflammatory bowel disease and obesity.
Brussels sprouts provide disease protection.
Brussels sprouts act like natural detoxifiers, meaning they help deactivate potentially damaging chemicals or shuttle them out of the body more quickly.
They help with blood sugar regulation.
Several studies have linked an increased intake of cruciferous vegetables to a decreased risk of diabetes, which is likely due to antioxidant power and fiber content. The latter helps regular blood sugar and insulin levels.
Garlic Roasted Salmon with Brussels Sprouts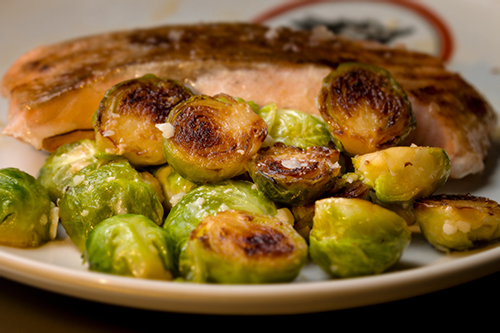 Ingredients
• 14 large garlic cloves, divided
• ¼ c extra-virgin olive oil
• 2 T fresh oregano, finely chopped, divided
• 1 tsp salt, divided
• ¾ tsp freshly ground pepper, divided
• 6 c Brussels sprouts, trimmed and sliced
• ¾ c white wine, preferably Chardonnay
• 2 lb wild-caught salmon fillet, skinned, cut into six portions
• Lemon wedges
Instructions
1. Preheat oven to 450°F.
2. Mince two garlic cloves and combine in a small bowl with oil, 1 tablespoon of oregano, ½ teaspoon of salt and ¼ teaspoon of pepper. Halve the remaining garlic and toss with Brussels sprouts and 3 tablespoons of seasoned oil in a large roasting pan. Roast, stirring once, for 15 minutes.
3. Add wine to the remaining oil mixture. Remove the pan from the oven, stir vegetables and place salmon on top of them. Drizzle with the wine mixture. Sprinkle with the remaining tablespoon of oregano and ½ teaspoon each of salt and pepper. Bake until the salmon is cooked through, 5 to 10 minutes more. Serve with lemon wedges.
Nutrition
Servings: 6 | Calories: 334 | Carbohydrates: 10.3g | Fiber: 2.7g | Sugar: 2g Fat: 15.4g | Saturated Fat: 2.8g | Cholesterol: 70.7mg