Limes are small, green citrus fruit that grows on trees in warm climates. They can be sweet or sour, depending on the variety. Limes are high in vitamin C and antioxidants — providing more than 20 percent of one's daily needs. Eating limes or drinking lime juice may improve immunity, reduce heart disease risk factors, prevent kidney stones, aid iron absorption and promote healthy skin.
Health Benefits of Limes
Reduce Inflammation
Limes contain antioxidants, which have been shown to help reduce inflammation and prevent certain chronic illnesses.
Protect Against Infection
The high levels of vitamin C found in limes can help protect you from infection and speed up your body's healing process.
Prevent Kidney Stones
Citrus fruit have been shown to help keep kidney stones at bay. The citric acid in lemons, limes and other citrus fruits makes it more difficult for kidney stones to form.
Healthy Bones and Teeth
Bone and tooth development also benefits from the vitamin C found in limes.
Improve Your Immune Health
Vitamin C is vital to immune health. Regularly eating limes can even help stave off the common cold.
Guard Against Stroke
Studies have shown that flavonoids found in citrus fruit, including limes, may help protect against stroke, especially in women.
Reduce Wrinkles
Vitamin C assists with the production of collagen, a protein that keeps your skin, hair and nails strong. Collagen boosts your skin's elasticity and smoothes wrinkles.
Help Regulate Blood Pressure
Limes contain the soluble fiber pectin, which slows digestion. By slowing digestion, the body can take its time absorbing carbohydrates, preventing blood sugar spikes.
CILANTRO LIME FLANK STEAK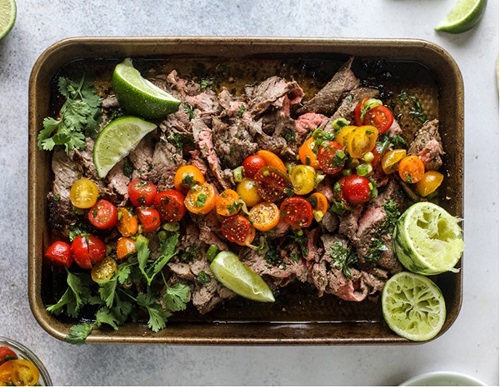 INGREDIENTS
1 2-lb flank steak
2/3 c fresh cilantro, chopped
1/2 c olive oil
1/4 c lime juice, freshly squeezed
2 T fresh lime zest
4 garlic cloves, minced
1/2 tsp red pepper flakes
1/2 tsp salt
1/2 tsp pepper
1 c cherry tomatoes, halved
2 green onions, thinly sliced
2 T chopped fresh cilantro
1/2 lime for juicing
INSTRUCTIONS
1. Use a meat tenderizer to pound the flank steak all over a few times. Place the flank steak in a baking dish or a zipper-sealed bag. In a bowl, whisk together the cilantro, olive oil, lime juice, lime zest, garlic, red pepper flakes, salt and pepper. Pour the mixture over the flank steak and marinate anywhere from 30 minutes to 2 hours. Marinate overnight, if desired.
2. Preheat the broiler in the oven and move the oven rack as close as possible to it. Place the steak on a broiler pan or baking sheet and broil on each side for about 5 minutes for medium doneness.
3. Allow the steak to rest for 10 minutes before slicing it thinly against the grain. While the steak rests, toss together the cherry tomatoes, onions and cilantro with a pinch of salt and pepper. Juice half the lime over top and toss well. Place the tomatoes on top of the sliced flank steak and serve.