Did you know that the average person consumes 2 lb of garlic each year? For thousands of years, ancient cultures, including Chinese, Egyptian, and Roman civilizations, used it as a medical treatment because of its numerous health benefits. Here's eight of them!
Garlic helps boost your body's immune system. Garlic offers an immune system boost to help prevent colds and the flu. Eating raw garlic can protect against cough, fever and cold illnesses.
Garlic helps reduce high blood pressure. Garlic is great for those suffering from high blood pressure or hypertension.
Garlic helps reduce cholesterol levels. Garlic has been shown to lower total cholesterol and LDL levels by 10 to 15%. Furthermore, eating garlic does not influence your HDL or good cholesterol levels.
Garlic can help with cancer prevention. According to research, consuming fresh garlic can help lessen the risk of colon cancer. According to the Iowa Women's Health Study, women who ate garlic regularly with other vegetables and fruit had a 35% lower chance of getting colon cancer.
Garlic has antibiotic properties. Garlic contains allicin, a bioactive antibiotic that can help fight infections and bacteria in sliced, squashed or diced cloves.
Garlic may prevent Alzheimer's disease and dementia. Garlic has high antioxidants, which help prevent any oxidative damage from occurring in your body. These antioxidant properties can help prevent certain cognitive diseases, such as dementia and Alzheimer's.
Garlic can improve athletic performance. Laborers used garlic in the olden days to alleviate weariness and boost working hours and endurance. Greek Olympic athletes also ate it to boost their athletic performance.
Garlic helps detox your body. Garlic is a powerful detox food that promotes glutathione production by various liver enzymes. It also provides other important detoxifying components, including multiple bioactive selenium and sulfur compounds.
Garlic Parmesan Wings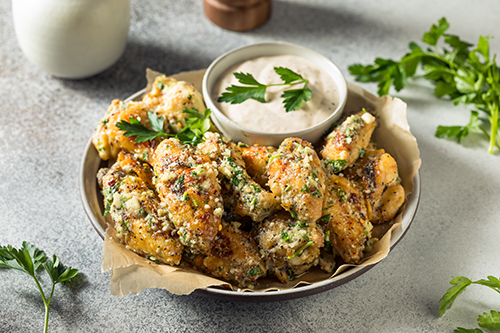 Ingredients
2 lb bone-in chicken wings
¼ c vegetable oil
Kosher salt
Freshly ground black pepper
1 stick melted butter
4 cloves garlic, minced
2 T freshly chopped parsley
¾ c freshly grated Parmesan, plus more for serving
1 tsp red pepper flakes
Caesar dressing, for dipping
Step 1: Preheat oven to 400°F and line a large, rimmed baking sheet with a metal rack. Toss wings with oil and season with salt and pepper.
Step 2: Transfer wings to prepared metal rack and bake until golden and crispy, about 50 minutes.
Step 3: Make sauce in a large bowl by stirring together melted butter, garlic, parsley, Parmesan and red pepper flakes. Add wings and toss until completely coated.
Step 4: Sprinkle with Parmesan and serve with Caesar dressing.