Move over, Charlie Brown! It's time to give new meaning to the term "great pumpkin." While this squash is often found in sugary treats and desserts, it's not super sweet on its own, making it a perfect savory ingredient. Before getting your gourd on, here are some of the health benefits of pumpkin.

Eye Health Just a single serving (about one cup) of pumpkin can provide more than 200% of your daily recommended intake of vitamin A. It also contains lutein and zeaxanthin, compounds that protect your eyes from age-related macular degeneration and cataracts.
Heart Health Pumpkin is high in potassium, a key ingredient for heart health. A cup of pumpkin contains 16% of your daily recommended amount of potassium. It also has heart-healthy vitamin C, fiber and antioxidants, which can help prevent heart disease.
Immune System Boost A serving of pumpkin provides 19% of the recommended daily allowance of vitamin C, which helps reduce cell damage. Pumpkin also packs a punch when it comes to other immunity-strengthening antioxidants, including vitamin A, vitamin E and iron.
Cancer-fighting Carotenoids Carotenoids are plant pigments produced by yellow, orange and red plants, such as pumpkins, carrots, squash and tomatoes. They may help protect against certain types of cancer.
Weight Management Pumpkin has just 50 calories per cup, and it's filling, too. That portion also provides 3g of fiber, which can keep you feeling fuller longer.
And There's More Don't toss pumpkin seeds. After separating them from the rest of the gourd's inside, clean, spice and roast them for a nutritious snack. The health benefits of pumpkin seeds include a reduced risk of cancer, improved bowel and prostate health and a lower risk of heart disease.
For a delicious appetizer or entree, try this savory pumpkin recipe:
Paleo Pumpkin Spice Turkey Meatballs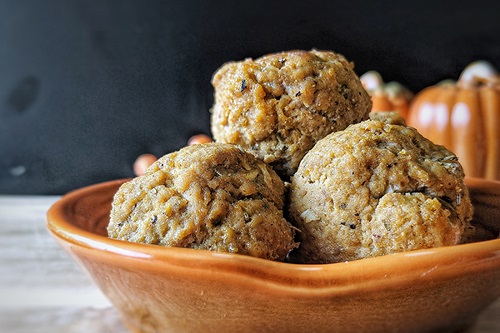 Ingredients
1 lb ground turkey
½ c canned pumpkin
2 T coconut flour
2 cloves garlic
½ tsp fresh ginger
1 tsp onion powder
1 tsp paprika
1 tsp salt
½ tsp pepper
½ tsp rosemary
¼ t tsp parsley
¼ tsp thyme
¼ tsp cinnamon
¼ tsp nutmeg
2 T avocado oil


Step 1: Preheat oven to 350°F. Finely mince garlic. Grate fresh ginger.
Step 2: In a large bowl, using your hands or a heavy spoon, mix ground turkey, canned pumpkin, coconut flour, garlic, ginger and the remaining dried herbs and spices until well combined.
Step 3: Cover mixture and refrigerate at least 15 minutes. Chilling the mixture makes it easier to form into meatballs.
Step 4: Remove the mixture from the fridge. Round mixture into 12 heaping tablespoon-sized meatballs.
Step 5: In a cast-iron or oven-safe skillet, heat 2 tablespoons of avocado oil (or cooking fat of your choice) over medium heat until hot but not smoking. Add the meatballs to the skillet and lightly brown, 2 to 3 minutes per side. Do not cook through.
Step 6: Once lightly browned, transfer the oven-safe skillet to the pre-heated oven. Bake for 20 minutes.