Watermelon is a staple at many summertime picnics and gatherings. While most people agree watermelon tastes good, most don't know its many health benefits.
Watermelon fights disease. Watermelon has more lycopene than any other fresh fruit or vegetable. Lycopene is an antioxidant linked to decreased risk of cancer, heart disease and age-related eye disorders.
Watermelon is nutritious. One cup of watermelon has:
• 46 calories
• 12 grams of carbohydrates
• 12 milligrams of vitamin C
• 170 milligrams of potassium
• 0 fat, cholesterol or sodium
Watermelon hydrates. Watermelon is 92% water. No wonder it's perfect for staying refreshed and hydrated on a hot summer day.
You can eat watermelon in many ways. Try lightly grilling (around two minutes on each side), throwing pieces in a blender for a refreshing beverage or smoothie, adding it to a salad or stir-fry, or pickling the rind.
How To Find the Perfect Watermelon
Look for a watermelon that is firm, symmetrical and heavy for its size. There should be a yellow spot on the underside from sitting on the ground and ripening in the sun. If the spot is very pale or white, it may have been picked too soon and is not ripe.
Spicy Shrimp and Watermelon Kebabs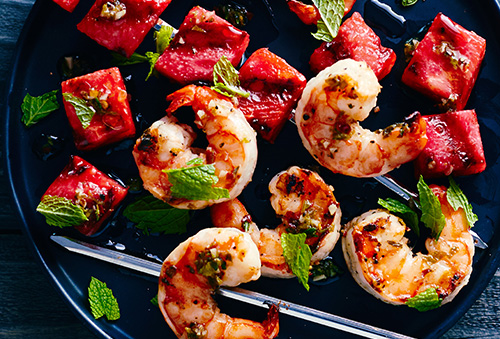 Ingredients
1 T reduced-sodium soy sauce
1 T Sriracha chili sauce
1 T honey
1 garlic clove, minced
4 c seedless watermelon (1 in), cubed and divided
1 lb uncooked shrimp (16 to 20 per lb), peeled and deveined
1 medium red onion, cut into 1-in pieces
½ tsp sea salt
¼ tsp coarsely ground pepper
Minced fresh cilantro, optional
Step 1: For the glaze, place soy sauce, chili sauce, honey, garlic and 2 cups of watermelon in a blender; cover and process until pureed. Transfer to a small saucepan; bring to a boil. Cook, uncovered, over medium-high heat until mixture reduces by half, about 10 minutes. Reserve ¼ cup of glaze for serving.
Step 2: On four metal or soaked wooden skewers, alternately thread shrimp, onion and remaining watermelon. Sprinkle with salt and pepper.
Step 3: Place kabobs on an oiled grill rack over medium heat. Grill, covered, 3 to 4 minutes on each side or until shrimp turn pink, brushing with remaining glaze during the last 2 minutes. If desired, sprinkle with cilantro. Serve with reserved glaze.
Nutrition 172 calories, 2g fat (0 saturated fat), 138mg cholesterol, 644mg sodium, 23g carbohydrate (19g sugars, 2g fiber), 20g protein