Summertime means peach season. This juicy fruit not only tastes good - it's good for you.
Benefits of Peaches
Prevent Cancer
Peaches are rich in phenolic and carotenoid compounds, which possess anti-tumor and anti-cancer properties.
The chlorogenic and neochlorogenic acids present in peaches inhibit the growth of breast cancer cells without affecting normal cells.
Peaches are rich in beta-carotene, providing protective effects against lung cancer.
Aid in Digestion
The alkaline content and fiber in peaches are good for maintaining digestive health.
Dietary fiber in peaches absorbs water and helps prevent stomach disorders such as constipation, hemorrhoids, stomach ulcers, gastritis and irregular bowel movements.
Peaches cleanse and eliminate toxic waste from the intestines and prevent the body from contracting various abdominal disorders, including stomach cancer.
Peaches also help dissolve kidney and bladder stones.
Useful in Pregnancy
The vitamin C in peaches helps in the growth of healthy bones, teeth, skin, muscles and blood vessels of the baby. It also helps in the absorption of iron.
The folate in peaches helps prevent neural tube defects.
Potassium in peaches helps avert muscle cramps and general fatigue.
Other health benefits of peaches include relief from hypokalemia, obesity, cholesterol and blood stasis, and a boost cardiac health and neurodegenerative diseases. They also help with eye care, skin care, and maintaining a healthy nervous system, bones and teeth.


Grilled Peach and Brie Smothered Chicken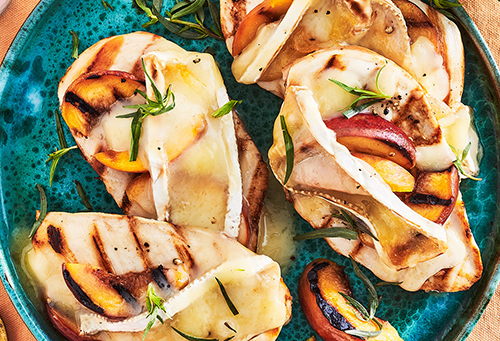 Serves 4
Ingredients
1 lb chicken cutlets
¼ tsp ground pepper
¼ tsp salt
1 firm ripe peach, halved
4 oz Brie, sliced
Directions
Step 1: Preheat grill to medium-high.
Step 2: Sprinkle chicken with 1/4 teaspoon of pepper and salt.
Step 3: Oil the grill rack. Grill peach halves with the cut side down, until lightly charred, 4 to 5 minutes. Transfer to a cutting board and slice. Grill the chicken until an instant-read thermometer inserted in the thickest part registers 160°F, 3 to 5 minutes. Flip and top the chicken with the peach slices and cheese. Grill until an instant-read thermometer inserted in the thickest part registers 165°F and the cheese is melted, 1 to 2 minutes more.
Per Serving
Calories: 342; Protein: 33.3g; Carbohydrates: 6.9g; Dietary fiber: 1.2g; Sugars: 5.4g; Fat 20.2g; Saturated fat: 6.4g; Cholesterol: 93.3mg; Sodium: 481.2mg