A common misconception is that potatoes are mostly fat and calories, but the truth is potatoes have close to zero fat and cholesterol, and are low in calories. Not only are potatoes not bad for you, but they are loaded with vitamins, minerals and health benefits.
One baked russet potato has nearly half of the recommended daily value of vitamin C, which is great for immunity, especially during flu and cold season.
Potatoes are high in B vitamins, magnesium and antioxidants.
They have more potassium than bananas, and 98% of Americans are potassium-deficient.
Potatoes are also packed with fiber, and 97% of Americans are fiber-deficient. Foods high in fiber help regulate blood sugar levels, maintain a healthy weight and lower cholesterol. Fiber deficiencies can make digestion difficult and sometimes painful.
Healthy Spinach and Potato Casserole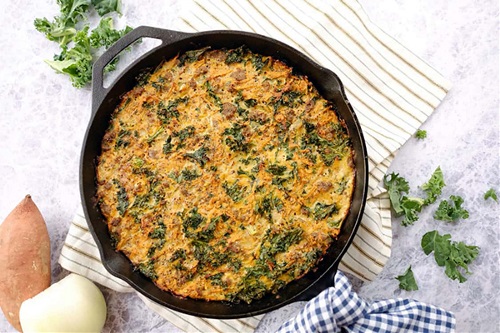 Ingredients
2 lb russet potatoes, peeled and cut into 1-in pieces
10 oz spinach
2 T olive oil
½ c vegetable stock
Sea salt
Pepper
½ c fresh whole-wheat breadcrumbs
Directions

Step 1: Preheat oven to 400°F.
Step 2: Place potatoes in a large pot of salted water and bring to a boil. Cook, uncovered, until the potatoes are fork tender, about 15 minutes. During the last minute of cooking, add spinach.
Step 3: Drain, shaking out any excess water and return to the pot. Add oil and mash the potatoes until smooth. Stir in the stock and season with salt and pepper to taste.
Step 4: Transfer potatoes to a 3-qt ceramic baking dish and sprinkle breadcrumbs over the top. Bake for 15 minutes, until the top is lightly browned.