Avocado is known for its high nutrient value and is added to many dishes because of its flavor and rich texture. Avocados contain a wide variety of nutrients, including 20 different vitamins and minerals. They do not contain any cholesterol or sodium and are low in saturated fat.
Health Benefits
Heart-Healthy Monounsaturated Fatty Acids
The majority of fat in avocado is oleic acid — a monounsaturated fatty acid that is the major component of olive oil and thought to be responsible for some of its health benefits. Oleic acid has been associated with reduced inflammation and is beneficial to genes linked to cancer.
Loaded with Fiber
Avocados are relatively rich in fiber and can contribute to weight loss, reduce blood sugar spikes and are strongly linked to a lower risk of many diseases.
Nutrient Absorption from Plant Food
Vitamins A, D, E and K are fat-soluble, along with antioxidants like carotenoids. One study showed that adding avocado or avocado oil to salad or salsa can increase antioxidant absorption 2.6- to 15-fold. So, avocado is highly nutritious and can dramatically increase the nutrient value of other plant foods people eat.
Loaded with Powerful Antioxidants
Avocados are high in antioxidants, including lutein and zeaxanthin. These nutrients are important for eye health and lower your risk of macular degeneration and cataracts.
Arthritis Symptom Relief
Studies have shown that avocado and soybean oil extracts can significantly reduce symptoms of osteoarthritis.
Ready to incorporate more avocados in your diet? Try this delicious and healthy avocado recipe.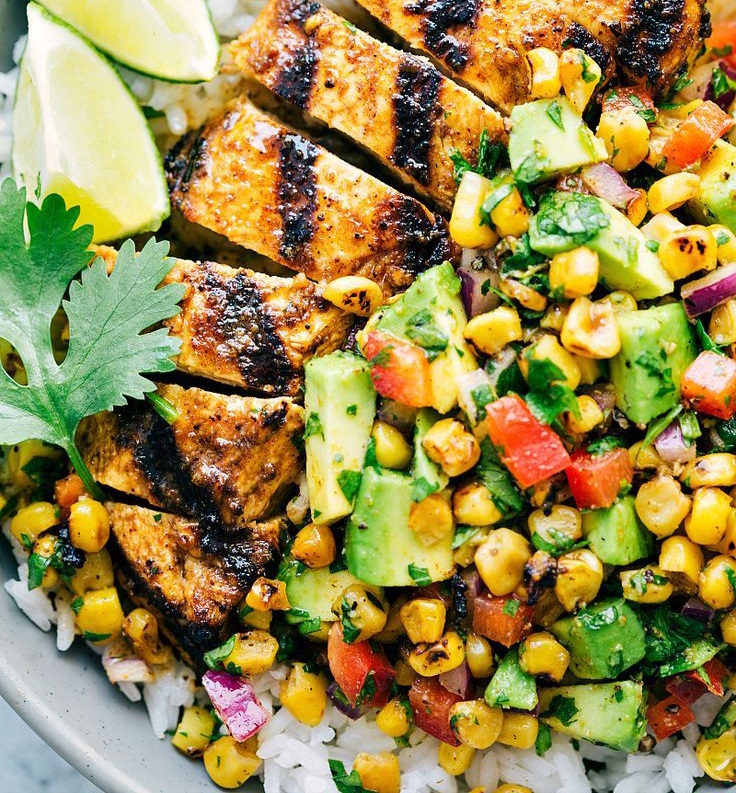 Cajun Chicken with Avocado Corn Salsa

Ingredients

Chicken
4 (6 oz) boneless skinless chicken breasts
3/4 tsp paprika
1/2 tsp garlic powder
1/4-1/2 tsp cayenne pepper, to taste
1/4 tsp onion powder
1/4 tsp dried thyme
1/4 tsp dried oregano
Salt and freshly ground black pepper
1 T olive oil
Avocado Corn Salsa
1 ear corn, grilled or 3/4 c frozen corn, thawed
1 Roma tomato, diced
1/3 c diced red or green bell pepper
1/2 avocado, diced
3 T chopped red onion
2 T chopped cilantro
1 T fresh lime juice
1 T olive oil
Step 1: Preheat a grill over medium-high heat (to about 425°). Pound thicker parts of the chicken with the flat side of a meat mallet to even out the thickness.
Step 2: In a small bowl, whisk paprika, garlic powder, cayenne pepper, onion powder, thyme and oregano. Season with salt and pepper to taste. Brush both sides of the chicken breasts lightly with olive oil, then sprinkle both sides evenly with seasoning mixture. Grill until the center registers 165°, about 4 minutes per side.
Step 3: Meanwhile, in a medium mixing bowl, toss corn, tomato, bell pepper, avocado, red onion, cilantro, lime juice and olive oil. Season with salt and pepper to taste.
Step 4: Once cooked, remove the chicken from the grill and let it rest for 5 minutes, tented with foil.
Step 5: Serve warm with avocado corn salsa.
Nutrition: Calories: 356; Calories from Fat: 153; Fat: 17g Sat Fat: 2g; Protein: 37g; Carbohydrate: 12g; Fiber: 3g; Cholesterol: 108mg; Sodium: 203mg; Sugars: 3g