Simply prepared—mashed, baked, folded into pancakes, or made into guilt-free baked fries—sweet potatoes are a nourishing addition to any meal.
One medium potato (about the size of a computer mouse) provides 103 calories, 4 grams of fiber, 2 grams of protein, and vitamins A and C. It also has carotenoids.
What are carotenoids, and what are the benefits of them?
Carotenoids are a type of antioxidant—a naturally occurring chemical that prevents cells from being damaged. There are more than 600 carotenoids, all packed with disease-fighting properties.
Does the color of my sweet potato matter?
Sweet potato flesh and skins can come in different colors—white, yellow, orange, red and purple —that each have different phytochemicals, which means that any sweet potato will have powerful plant compounds.
Are sweet potatoes anti-inflammatory?
Chronic inflammation is something to avoid since it can lead to many health problems, including cancer, heart disease and diabetes, and sweet potatoes can help fight inflammation. They are a good source of choline, which has been associated with decreased inflammation.
Chicken, Quinoa & Sweet Potato Casserole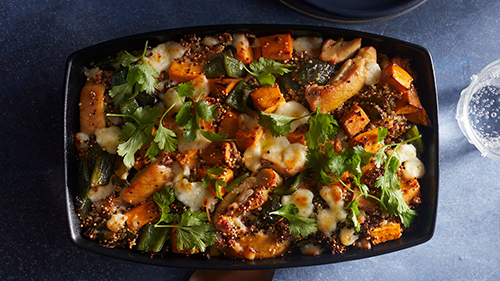 Ingredients
4 c sweet potatoes (about 1 pound), peeled and cubed
3 T water
1 T canola oil
1-½ lb boneless, skinless chicken thighs, trimmed
2 c seeded poblano chiles, chopped
½ c shallots, thinly sliced
2 T garlic, minced
2 c unsalted chicken broth
1-½ c multicolored quinoa
⅓ c dry white wine
1 tsp kosher salt
1 tsp ground cumin
½ tsp ground cinnamon
⅛ tsp cayenne pepper
½ c queso fresco, crumbled
¼ c fresh cilantro
Directions
Step 1
Preheat oven to 400°F.
Step 2
Place sweet potatoes and water in a microwave-safe bowl. Cover with plastic wrap; pierce a few holes in the top with a fork. Microwave on high for 4 minutes.
Step 3
Meanwhile, heat oil in a large skillet over medium-high heat. Add chicken and cook until browned, 4 to 5 minutes per side. Transfer the chicken to a clean cutting board and let stand 5 minutes. Cut into 1-inch strips.
Step 4
Add poblanos, shallots and garlic to the pan and cook over medium-high heat, stirring occasionally, until the shallots are lightly browned, about 2 minutes. Add broth, quinoa, wine, salt, cumin, cinnamon and cayenne. Bring to a boil. Remove from heat and stir in the sweet potatoes and chicken.
Step 5
Spoon the mixture into a 7-by-11-inch (or similar-sized) broiler-proof baking dish. Cover with foil. Bake for 20 minutes.
Step 6
Remove from oven; increase oven temperature to broil. Uncover the casserole and sprinkle with cheese. Broil 8 inches from the heat source until golden brown, about 5 minutes. Sprinkle with cilantro. Let cool for 5 minutes before serving.
Serving Size
1 cup
Per Serving
Calories: 349; Protein: 22.9g; Carbohydrates: 38.7g; Dietary fiber: 5.3g; Sugars: 5.7g; Fat: 10.5g
Exchanges
2-½ starch, 2 lean protein, ½ fat, ½ vegetable