Collard greens - a Southern favorite - are a low-calorie vegetable full of essential nutrients. A serving (1 cup) provides 12 calories, 2 grams of carbohydrates, 1.4 grams of dietary fiber and 1 gram of protein. They have large amounts of calcium, magnesium, potassium, phosphorus and vitamins K, C and folate. These greens also have antioxidants that fight free radicals in the system, reduce inflammation and lower the risk of developing chronic ailments.
Health Benefits
Prevents Cancer.
Cruciferous vegetables including collard greens are attributed to anti-cancer effects. Several studies show that a high intake of cruciferous vegetables lower the risk of developing certain types of cancers, including prostate, breast, ovarian, lung, bladder and colon cancer.
Fortifies Bone Density.
The calcium and vitamin K in collard greens strengthens bones. Vitamin K activates the proteins that enhance bone health and bone metabolism in adults and alleviate osteoporosis symptoms.
Improves Eye Health.
Collards are full of vitamin, which play a key role in vision and prevent eye disorders, such as age-related macular degeneration, cataracts, diabetic retinopathy and glaucoma.
Augments Heart Health.
Rich in dietary fiber and potassium, collard greens help enhance good HDL levels and diminish bad LDL cholesterols, averting plaque and fatty deposits in heart vessels and improving cardiac muscle function and heart health.
Boosts Gut Health.
Regularly eating collard greens increases your fiber intake. Dietary fiber supports digestive health by regularizing bowel movements and nurtures the gut with good bacteria.
Ways To Add Collard Greens.
Collard greens are best relished raw. They have a mild flavor that's less bitter than kale. You can use greens to make salads, smoothies and sandwiches, and add them to soups or stews to boost nutritional values. They can also be sautéed and served as a side dish.
Chicken Stew with Collard Greens & Peanuts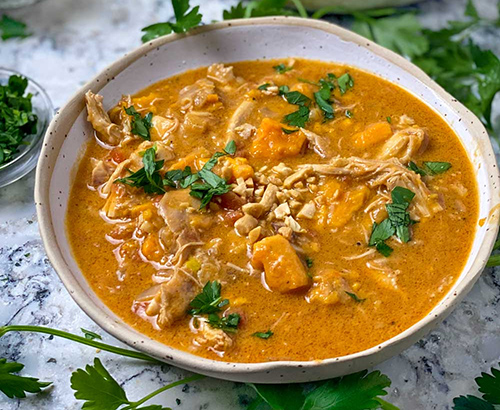 Ingredients
3 c low-sodium chicken broth
2 T tomato paste
1 T canola oil
12 oz boneless, skinless chicken thighs, trimmed and cut into 1-in pieces
½ tsp kosher salt plus a pinch, divided
¼ tsp ground pepper
1 medium sweet onion, chopped
2 medium carrots, diced
½ medium red bell pepper or two mini bell peppers, chopped
3 cloves garlic, finely chopped
1 T fresh ginger, finely chopped
½ c crunchy peanut butter
½ habanero chili or ¼ jalapeño pepper, seeded and finely chopped
1 bay leaf
¼ tsp ground coriander
¹∕8 tsp ground cinnamon
¹∕8 tsp ground cumin
2 ¼ c butternut squash, peeled and cubed
2 c packed sliced collards or other dark leafy greens
Fresh cilantro, chopped, and unsalted peanuts for serving
Step 1: Whisk broth and tomato paste in a large measuring cup or bowl until smooth. Set aside.
Step 2: Heat oil in a large pot over medium-high heat. Season chicken with ½ teaspoon salt and pepper. Add to the pot and cook, turning as needed, until browned on all sides, about 5 minutes. Transfer to a plate.
Step 3: Add onion, carrots and bell pepper to the pot; cook, stirring often, until the onion is soft and translucent, 3 to 5 minutes. Add garlic and ginger; cook until fragrant, 45 to 60 seconds. Add the broth mixture, peanut butter, chili pepper, bay leaf, coriander, cinnamon, cumin and the remaining pinch of salt; stir until smooth. Add the chicken and any juices that have accumulated, squash and greens.
Step 4: Reduce heat to medium-low, cover and cook until the vegetables are tender, about 15 minutes. Uncover and cook until the chicken is cooked through and soup has thickened, about 5 minutes more. Discard the bay leaf. Sprinkle with cilantro and peanuts, if desired.