Strawberries are rich in vitamin C, potassium, folic acid and fiber. One cup of fresh strawberries equals 160 percent of the daily recommended quantity of vitamin C, and is only 50 calories.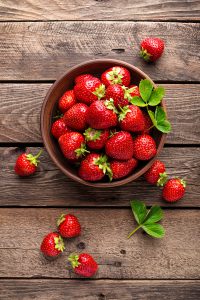 Health Benefits
Heart Disease
• Regular consumption of anthocyanins, a class of flavonoids found in berries, can reduce the risk of a heart attack by 32 percent in young and middle-aged women.
• The flavonoid quercetin in strawberries is a natural anti-inflammatory that appears to reduce the risk of atherosclerosis and protect against the damage caused by low-density lipoprotein cholesterol.
Stroke
• The antioxidants quercetin, kaempferol and anthocyanin reduce the formation of harmful blood clots associated with stroke.
• High potassium intake has also been linked with a reduced risk of stroke.
Cancer
Powerful antioxidants in strawberries may work against free radicals, inhibiting tumor growth and decreasing inflammation in the body.
Blood pressure
Doctors recommend eating strawberries because of their high potassium content. Low potassium is just as risky for developing high blood pressure as a high sodium intake.
Constipation
• Eating foods high in water content and fiber, such as strawberries, grapes, watermelon and cantaloupe, can help keep the body hydrated and bowel movements regular.
• Fiber is essential to minimize constipation and add bulk to stool.
Diabetes
Strawberries are a low glycemic index food and high in fiber, which helps regulate blood sugar and keep it stable.
Pregnancy
Strawberries are a great source of folic acid, which is essential for pregnant women to protect against neural tube defects in infants.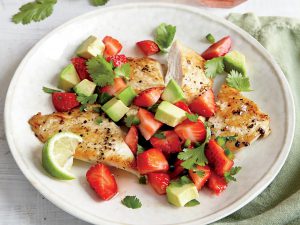 prop stylist: Claire Spollen; food stylist: Kellie Kelley

Chicken Cutlets with Strawberry-Avocado Salsa
Serves 4
Ingredients
• 1 1/2 cups chopped strawberries
• 1/2 cup diced peeled ripe avocado
• 2 T minced seeded jalapeño pepper
• 2 T chopped fresh cilantro
• 2 tsp fresh lime juice
• 3/4 tsp kosher salt, divided
• 1 T olive oil
• 4 (4-oz) chicken breast cutlets
• 1/4 tsp freshly ground black pepper
• 4 lime wedges
Step 1 Combine strawberries, avocado, jalapeño, cilantro, lime juice and 1/4 teaspoon of salt in a small bowl; toss to combine.
Step 2 Heat a large skillet over medium heat. Add oil to pan; swirl to coat. Sprinkle chicken with remaining 1/2 teaspoon salt and pepper. Add chicken to pan; cook 3 minutes on each side or until done.
Step 3 Divide chicken and spoon salsa evenly for each serving. Garnish with a lime wedge.