Brassica vegetables (the plant family that includes cabbage, cauliflower, Brussels sprouts, kale, and broccoli, to name a few) are healthy eating power players. Cabbage provides unique health benefits and comes in many varieties. Savoy, spring greens, green, red and white cabbages are the most common types found in grocery stores.
Benefits
Fiber
Cabbage is a stomach's best friend. Like its trendier cousins Brussel sprouts, broccoli and kale, cabbage is an amazing source of fiber. Raw cabbage has also been shown to help cure stomach ulcers.
Antioxidants
Red cabbage is chock full of anthocyanins, a type of antioxidant commonly found in blue, purple and red plants.
Cholesterol
Look to this superfood for a natural and effective cholesterol reducer. Cabbage prevents bile from absorbing fat after a meal, which lowers the overall amount of cholesterol in the body.
Glucosinolates
Cabbage contains sulfur-based compounds called glucosinolates that have anti-carcinogenic properties. In the body, glucosinolates become compounds called isothiocyanates, which some studies suggest inhibit the growth of cancer cells.
Rosemary Grilled Chicken and Cabbage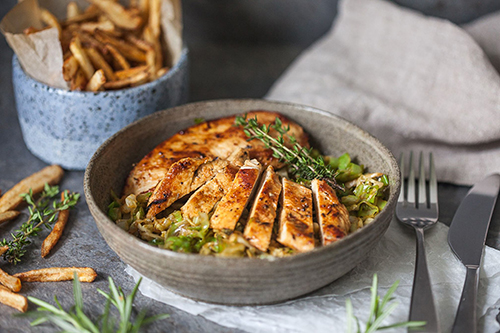 Ingredients
½ lb chicken breast
1 T olive oil
1/2 tsp salt
Dash of ground black pepper
¼ tsp paprika
¼ tsp thyme
¼ tsp rosemary
1 small cabbage
Directions
1. Cut chicken breast into fillets. Brush chicken with olive oil, then season with salt, pepper, paprika, thyme and fresh rosemary. Coat evenly. Marinate in the refrigerator for an hour or overnight.
2. Shred cabbage head into strips with a sharp knife. If your cabbage is clean and organic, you do not need to wash it, otherwise wash and drain well. Don't worry if it seems like a lot of cabbage. It will wilt when cooking.
3. Heat a grill pan to medium heat and brush with a bit of olive oil. Add chicken to the pan and grill on each side for about 6 minutes, depending on filet thickness. When the bottom is seared, flip on the other side and grill for another couple of minutes. Make sure there is no pink in the middle.
4. Remove from the pan and set aside to rest. Return pan to stove without cleaning it and add shredded cabbage. Quickly stir-fry for a couple of minutes until the cabbage softens, making sure to rub it in any sticky residue in the pan. Season to taste with salt and pepper, then remove from pan and place on plates.
5. Cut chicken into slices and add on top of the cabbage. Top with dripping from the resting pan.
6. Serve.
Calories: 285; Carbohydrates: 4g; Protein: 40g; Fat: 11g; Saturated Fat: 2g; Cholesterol: 106mg; Sodium: 680mg; Fiber: 2g; Sugar: 2g