Benefits of Peaches
Prevent Cancer
Peaches are rich in phenolic and carotenoid compounds, which possess anti-tumor and anti-cancer properties.
The chlorogenic and neochlorogenic acids present in peaches inhibit the growth of breast cancer cells without affecting normal cells.
Peaches are rich in beta-carotene, providing protective effects against lung cancer.
Aid in Digestion
The alkaline content and fiber in peaches are good for maintaining digestive health.
Dietary fiber in peaches absorbs water and helps prevent stomach disorders such as constipation, hemorrhoids, stomach ulcers, gastritis and irregular bowel movements.
They cleanse and eliminate toxic waste from the intestines and prevent the body from contracting various abdominal disorders, including stomach cancer.
Peaches also help dissolve kidney and bladder stones.
Useful in Pregnancy
The vitamin C in peaches helps in the growth of healthy bones, teeth, skin, muscles and blood vessels of the baby. It also helps in the absorption of iron.
The folate in peaches helps prevent neural tube defects.
Potassium in peaches helps avert muscle cramps and general fatigue.
Other health benefits of peaches include relief from hypokalemia, obesity, cholesterol and blood stasis, and a boost cardiac health and neurodegenerative diseases. They also help with eye care, skin care, and maintaining a healthy nervous system, bones and teeth.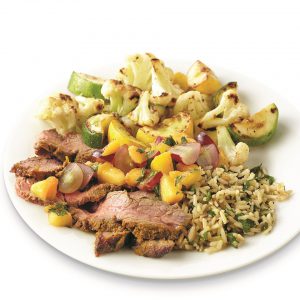 Cook with Peaches
Indian-Spiced Beef with Peach-Grape Salsa
Serves 4
Ingredients Peach-Grape Salsa 1 medium peach, pitted and coarsely chopped ½ cup red grapes, quartered 1 T snipped fresh mint, 1 T lemon juice
Indian-Spiced Beef 1 tsp ground coriander, ½ tsp garlic powder, ½ tsp ground cumin, ¼ tsp salt, ¼ tsp ground ginger, ¼ tsp ground turmeric, ¼ tsp ground black pepper, ⅛ tsp crushed red pepper, 1 lb beef flank steak
Preparation
Prepare salsa: In a small bowl, stir peaches, red grapes, snipped fresh mint and lemon juice. Set aside.
Prepare beef: Preheat broiler. In a small bowl, combine coriander, garlic powder, cumin, salt, ginger, turmeric, black pepper and crushed red pepper. Trim fat from steak. Score both sides of steak in a diamond pattern by making shallow diagonal cuts at 1-inch intervals. Sprinkle steak evenly with spice mixture, rubbing in with your fingers.
Place steak on the unheated rack of a foil-lined broiler pan. Broil 3 to 4 inches from heat for 17 to 21 minutes or until medium doneness (160°F), turning once. Cover with foil; let steak stand for five minutes before thinly slicing. Top steak slices with salsa.
To grill steak: For a charcoal grill, place seasoned steak on the rack of an uncovered grill directly over medium coals. Grill for 17 to 21 minutes for medium doneness (160°F), turning once halfway through grilling. For a gas grill, preheat grill. Reduce heat to medium. Place steak on grill rack over heat. Cover and grill as directed above.