Beets come in many colors – red, pink, golden, white – and a variety of sizes. Small- to medium-sized beets are best for flavor and texture, whereas very large beets may be tough and fibrous.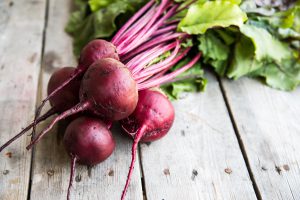 They're full of essential, everyday nutrients, such as vitamin B, iron, magnesium, copper, manganese and potassium.
Beet Benefits
~ Eating beets lowers blood pressure and reduces the risk of heart disease.
~ Beets are rich in betaine, an amino acid, and B-vitamin folate.
~ Beets may improve stamina.
~ Eating beets improves brain function.
~ Research shows that betaine can help prevent and reduce accumulation of fat in the liver.
~ Beets are rich in betalains, potent antioxidants and anti-inflammatories that battle radical- and inflammation-related chronic diseases, such as heart disease, obesity and cancer.
~ Betacyanin, the pigment that colors beets, may protect against common carcinogens.
How to Eat Beets
People can eat beets raw, roasted, boiled, steamed, sautéed or even as chips. They are delicious when paired with salty or creamy cheeses, nuts and citrus. Use beet leaves to any recipe that includes spinach or chard.
Beets Recipe
Spicy Fish Tacos with Beet Slaw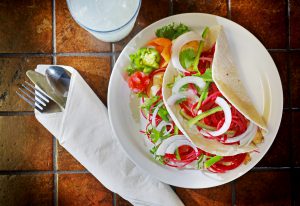 Fish
• 3/4 lb tilapia or other white fish
• 1 tablespoon clean taco seasoning
• 2 tablespoons olive, coconut or avocado oil
• 4 tortillas
• 1 avocado
Slaw
• 1 cup spiralized beets (or julienne beets)
• 1 jalapeno thinly sliced
• 1/2 cup onion (spiralized or julienne)
• 1 tablespoon minced peeled fresh ginger
• Handful of cilantro, minced
• 1 lime, juiced
• Salt to taste
Step 1
To prepare the slaw, toss the spiralized beet and onion with jalapenos, cilantro, and lime juice and salt to taste.
Step 2
To prepare the fish, heat oil over medium high heat in a large skillet. Sprinkle the fish with taco seasoning and sear for 3 to 4 minutes per side until the fish flakes easily with a fork.
Step 3
Divide the fish between the tortillas, and top with slaw and sliced avocado.