Collard greens are leafy vegetables that are similar to kale. They rank as one of the most nutritious foods in the world, rich in vitamins, minerals and fiber.
Benefits
Detoxifier
Because of their sulfur-containing compounds, collard greens are natural liver cleansers. The vitamin C in collard greens has antioxidant properties that help fight damage.
Bone Strength
Collard greens cover up to 100 percent of the daily recommended value of vitamin K. Regular consumption of collard greens can be beneficial in fighting off diseases, such as osteoarthritis and rheumatoid arthritis.
Digestion
Collard greens are an excellent source of dietary fiber. They can also help prevent leaky gut syndrome and strengthen overall immunity. They are rich in glucoraphanin, which protects the stomach lining and prevents bacterial growth.
Anemia Prevention
Collard greens are a good source of iron because they contain 0.5mg of iron per 100g. The folate present in collard greens helps the body absorb iron and build more red blood cells.
Anti-Aging
Collard greens are rich in antioxidants and vitamins that create a barrier between the body and free radicals, which prevents early-onset aging.
Diabetes
The dietary fiber in collard greens helps maintain a balanced glucose level, which can help manage and prevent diabetes. The alpha lipoic acid present in collard greens lowers the glucose levels in blood and increases insulin sensitivity.
Calming Effects
Collard greens help revitalize sore muscles and improve mood. They also help with sleeping difficulties and improve memory.


Smoky Collards

Serves 4 to 6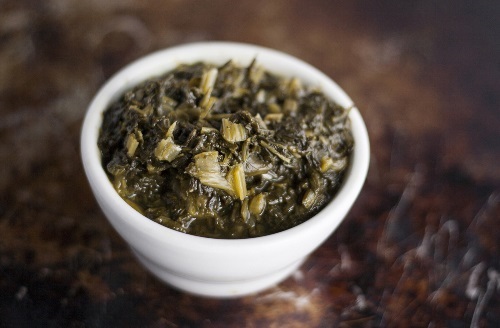 Ingredients
1 large yellow onion, halved and thinly sliced
1/2 tsp crushed red chile flakes
3 cloves garlic, chopped
2 (3/4-lb) bunches collard greens, thick stems removed, leaves sliced 2 in wide and rinsed
1/3 c red-wine vinegar
1 T smoked paprika
1/8 tsp fine sea salt
1/2 tsp ground black pepper
Directions
1. Heat a large high-sided skillet over medium-high heat.
2. When the pan is very hot, add onion and stir constantly for 2 minutes.
3. Add 2 tablespoons of water, chile flakes and garlic; cook for 3 minutes, stirring often.
4. When the onion starts to turn translucent, slowly add greens with water still clinging to the leaves, stirring often until wilted, or about 5 minutes.
5. Add vinegar, paprika, salt, pepper and 2 cups of water.
6. Bring to a boil and then reduce heat to a simmer.
7. Cook uncovered until the pan is nearly dry and collard greens are very tender, 40 to 45 minutes.
Per serving: 45 calories (5 from fat); 0.5g total fat; 0g saturated fat; 0mg cholesterol; 85mg sodium; 10g carbohydrates (4g dietary fiber, 2g sugar); 3g protein