Blueberries are one of the most nutritious, antioxidant-rich fruit in the world. In addition to a long list of health benefits, this fruit is also sweet, low-calorie and delicious.


Antioxidants Blueberries are one of the best sources of antioxidants, including phenols, flavonoids and anthocyanins.
Weight Loss Blueberries are low in calories, but they provide a whopping 3.6 grams of fiber per cup. That's up to 14 percent of your daily fiber needs with just one serving.
Brain Health Many studies suggest eating blueberries could improve memory and cognition. The antioxidant in blueberries protect the brain from free radical damage and promote healthy brain aging.
Inflammation Chronic inflammation is at the root of most diseases. In fact, inflammation may contribute to a wide range of conditions, including cancer, autoimmune conditions, heart disease and depression. Because of their high antioxidant content, blueberries have significant anti-inflammatory effects.
Digestion With 3.6 grams of fiber in each cup, a serving or two of blueberries can help meet your fiber needs while promoting regularity and healthy digestion.
Heart Health Studies show that eating blueberries could help reduce some of the risk factors for heart disease. One study found that eating blueberries daily for eight weeks resulted in lower blood pressure and arterial stiffness in women.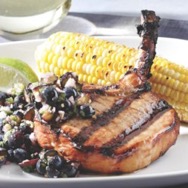 Teriyaki Pork Chops with Blueberry-Ginger Relish

Ingredients 4 bone-in center-cut pork chops, (about 1¾ pounds), trimmed of fat
Marinade 3 T reduced-sodium soy sauce (see note) 2 T dry sherry (see note) 2 cloves garlic, crushed 1 tsp brown sugar ¼ tsp crushed red pepper
Blueberry-Ginger Relish 1 cup fresh blueberries, coarsely chopped 1 shallot, chopped 1 serrano chile, seeded and minced 1 T chopped fresh cilantro, 1 T lime juice, 1 tsp minced fresh ginger, ¼ tsp salt
Directions
1. Place pork chops in a large sealable plastic bag. Whisk soy sauce, sherry, garlic, brown sugar and crushed red pepper in a small bowl. Add the marinade to the bag, seal and turn to coat. Marinate in the refrigerator for at least two hours or overnight.
2. About 20 minutes before grilling the pork, combine blueberries, shallot, chile, cilantro, lime juice, ginger and salt in a small bowl.
3. Preheat grill to high. Remove the pork chops from the marinade and discard marinade. Grill the chops three to five minutes per side. Let them rest for five minutes before serving with relish.