A snapshot of Pam Padula, RNC, from 1986 reveals a smiling young nurse in scrubs showing off a newborn. Several decades and thousands of babies later, Pam still radiates joy with every new birth she witnesses at Lexington Medical Center.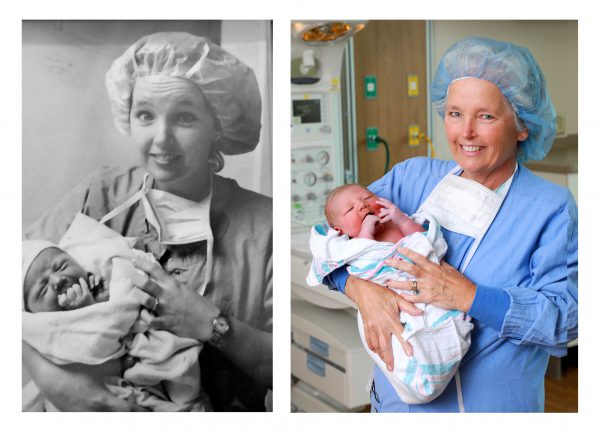 "It's more of a gift to be present at a birth than a job," said Pam, who has delivered more babies than any other nurse at Lexington Medical Center. "People remember their birth experience their whole lives."
She recently received a note from a patient who thanked her for her experience and enthusiasm. "They can still see my excitement after doing this job for so many years."
Pam first came to work at Lexington Medical Center in 1976 as a nurse technician in the postpartum unit. A short while later, her husband's job moved the family to Greenwood, where she worked in a hospital maternity unit there. When Pam and her family returned to Lexington in 1983, she was excited to land a job in Lexington Medical Center's Labor and Delivery department.
"I was an Army brat and moved a lot growing up, but this community feels like home," she said. "I bonded with the original group of nurses who were here when I started. We had a close relationship with the physicians, too, which I wouldn't trade for anything."
Pam has been an eyewitness to many changes in childbirth over the years. Back in 1983, Lexington Medical Center was a community hospital with just two rooms for women in labor. When labor progressed, patients were wheeled into the hospital's only delivery room.
Despite this small setting, Lexington Medical Center broke ground as the first hospital in South Carolina to allow husbands in the delivery room.
Pam recalled the Lamaze movement in the 1980s brought a new trend - natural childbirth. Instead of delivering babies under a pain-alleviating sedative, mothers embraced natural methods.
"No one wanted pain medicine," she said. "But it got a lot quieter in labor and delivery a few years later in the late 1980s when we introduced the epidural."
Over the years, Pam has developed some distinct capabilities.
"I'm pretty famous for knowing when a baby will come," she said. She predicted a recent delivery would occur at 1:00 p.m. The actual time of delivery was 1:01 p.m. "It was only because we had to wait for the doctor," she quipped.
Pam's years of dedication to expectant families have earned her accolades. In 2002, she received the prestigious Palmetto Gold award for excellence in nursing.
These days, she encounters several generations of her patients in Labor and Delivery. She met a grandmother who recognized Pam as the nurse who delivered her daughter, and now her daughter's child.
"One time I was working with a new nurse at a delivery and I said, 'I've probably been birthing babies since before you were born.' She didn't believe it, but then she said she was born at Lexington Medical Center, so we went through the logs and, sure enough, I delivered her."
To find physicians who deliver babies at Lexington Medical Center, visit LexMed.com/OBGYN.