In a historic moment, Ethan Rucker, RN, became Lexington Medical Center's first employee to receive a COVID-19 vaccine. The 29-year-old nurse has worked with COVID-19 patients daily at the hospital since the beginning of the pandemic in March. He received a dose of the vaccine on Tuesday afternoon, followed by a round of applause and cheers from colleagues and news reporters celebrating the important milestone.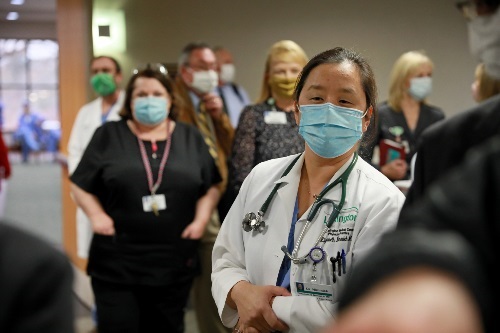 "We've been fighting this virus for months. Now, we have something that will hopefully put an end to it all," Ethan said. "I work with a great group of people. To the families of our patients -- we want to tell them we're going to keep doing our part so that we can provide the best possible care for their family members."
Ethan reported taking the vaccine was easy, saying, "I didn't even feel it." He knows the vaccine is an important tool to keep our families, friends and neighbors safe. It's something that's especially important to him right now. Ethan and his wife are expecting their first baby.
"It will take time to get the vaccine out to everyone," he added. "Stay vigilant. Wear your mask. Practice social distancing."
Lexington Medical Center began vaccinating front-line health care workers against the COVID-19 virus on the hospital campus in West Columbia on Tuesday afternoon. In all, 48 employees received vaccinations that day.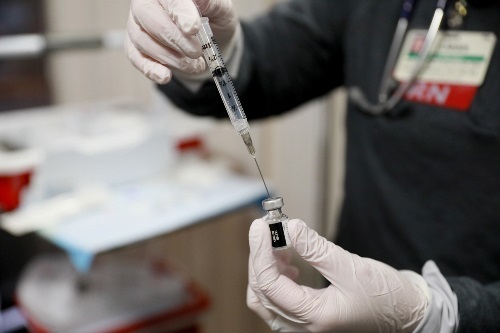 Additional employees who received the COVID-19 vaccine on its first day included an Environmental Services (housekeeping) staff member who works in the Emergency department, a critical care physician who works with COVID-19 patients, a respiratory therapist and a Lexington Medical Center Public Safety department officer.
Lexington Medical Center received its first delivery of the COVID-19 vaccine on Tuesday morning. UPS delivered 2,925 doses of the Pfizer-BioNTech vaccine to the hospital campus in West Columbia at 9:30 a.m.
The doses arrived in one box packed with dry ice that included GPS tracking and a thermometer to monitor the temperature. Lexington Medical Center has freezers that are storing the doses at the required very cold temperatures of minus 70 degrees Celsius.
Vaccinations will continue daily this week.