It's Monday morning inside Lexington Oncology's Infusion Center at Lexington Medical Cancer Center. More than a dozen patients are receiving chemotherapy treatments for cancer. As nurses work to begin IV drips of life-saving medicine, a smiling face in a bright red vest makes his way throughout the room.
With a friendly and warm demeanor, he asks patients if he can make them comfortable by bringing them a warm blanket. He also offers up refreshments ranging from ginger ale to peanut butter crackers.
One after another, you can hear, "Hi, Ted!" All the patients seem to know his name and are glad to see him.
This is Ted Winegardner's routine once a week as a Lexington Medical Center volunteer. It's a role the 73-year-old has enjoyed for more than three years, ever since he and his wife Pat retired to South Carolina from their farm in Iowa to be close to their three young grandchildren, Katie, Lizzie and Nate in the Midlands.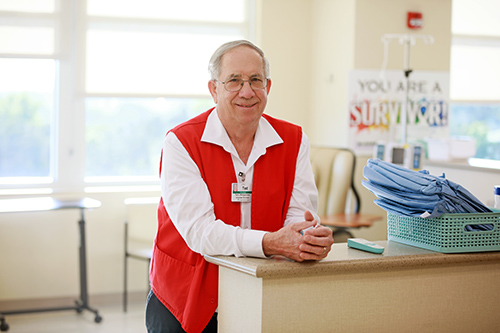 Helping cancer patients holds a special place for Ted. He's a survivor himself, beating colon cancer twice in the 1990s. And his wife is a 12-year breast cancer survivor. So, when he moved to the Midlands and his doctor at Lexington Medical Center thought he might like volunteering, Ted agreed.
"I have a little bit of understanding in what's going on with them, even though every cancer is different," he said. "If you've never had it, it's hard to understand all of the anxiety that comes with so many tests."
Ted is part of a strong team. At Lexington Medical Center, more than 200 volunteers provide non-clinical assistance to staff, patients, families and visitors. They're dispatched throughout the hospital, helping visitors in the surgical lobby, delivering flowers and assisting with patient discharge. Hospital volunteers also raise money for hospital and community projects, and scholarships. They provided 29,500 service hours in 2021.
Back in Infusion, Ted likes to sit and talk a lot, always interested in people's stories. He's heard everything from stories from their childhoods, news about their families and the latest updates from their cancer treatment.
"I've made a lot of friends, and I hope I've inspired some people," he said.
He sure has. Thank you to Ted and all of Lexington Medical Center's volunteers for their important, compassionate and kind service.