Barbara Willm retired from Lexington Medical Center earlier this year after 35 years of leadership and service. South Carolina Governor Henry McMaster presented her with the Order of the Palmetto on November 22 at the State House. The prestigious award is South Carolina's highest civilian honor. It recognizes individuals for extraordinary lifetime achievement and service.
"Barbara's tireless dedication to the health and wellness of our community greatly contributed to our reputation of providing the highest quality care. She has been one of our greatest advocates and supporters and has represented all that it means to be part of the Lexington Medical Center family," said Tod Augsburger, president and CEO of the hospital.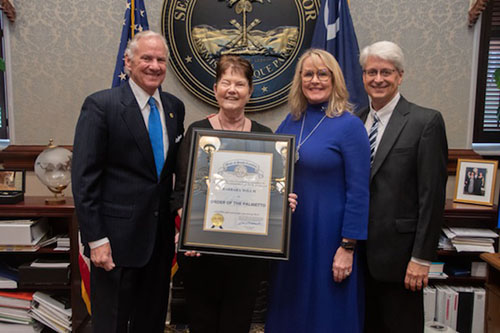 Gov. Henry McMaster, Barbara Willm, Lou Kennedy, Tod Augsburger
A graduate of the University of South Carolina, Barbara began her career at Lexington Medical Center as an Operating Room nurse. She then helped open Lexington Medical Center's community medical centers as director of Community Medical Centers and played a vital role advocating for hospital programs and services throughout Lexington County as vice president of Development and Community Relations. In honor of her career and service, the Foundation established The Barbara Willm Fund to Provide Hope.
Extremely active throughout the Midlands' philanthropic and business community, Barbara is recognized as an advocate for the underserved. She was on the board of directors for the Greater Lexington Chamber of Commerce, the Greater Irmo Chamber of Commerce, Leadership Lexington County, The Free Medical Clinic, the Midlands Regional Educational Center Advisory Board, the Midlands Technical College Foundation and the Saluda Shoals Foundation. She is also a past board member of United Way of the Midlands, chairing its Community Impact Committee, and served on the Transitions Homeless Recovery Center board.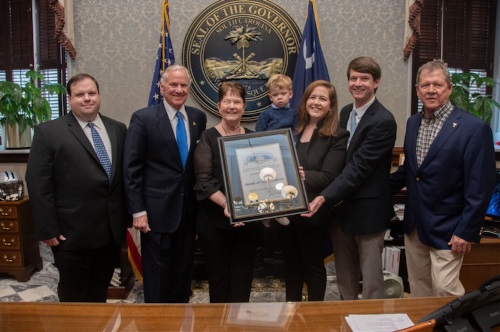 Gov. Henry Master, Barbara Willm and her family
Barbara has also been lauded with several awards for her community service. She received the Greater Irmo Chamber of Commerce Ambassador of the Year award in 2005 and the SC Girl Scouts Mountains to Midlands Women of Distinction Award in 2013. The Susan G. Komen organization named her a Komen Champion in 2016 for her work with breast cancer, and in 2019, the Cayce West Columbia Chamber of Commerce awarded her its Lifetime Achievement Award. In 2020, she received the Mike Till Community Impact Award from the Lexington Chamber of Commerce. Barbara was also awarded the Lifetime Achievement Award from the Greater Irmo Chamber of Commerce, and Irmo Town Council members and Mayor Barry Walker presented Barbara with a "Key to the City" in 2020.
Congratulations to Barbara on this well-deserved prestigious honor!