Although mushrooms can be found in the produce section of the grocery, they aren't a fruit or a vegetable. They have a great deal of nutritional value and are full of micronutrients. There are more than 70,000 types of mushrooms, but only around 250 species are edible.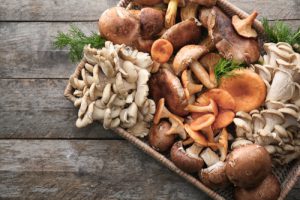 Benefits
• Mushrooms absorb vitamins, minerals and nutrients from plants and soil. On trees, they often soak up nutrients that have been building for decades, creating powerhouse supplements.
• Mushrooms are low in carbohydrates and high in fiber. They are a good source of B-vitamins, iron and selenium.
• Mushrooms are naturally low in sodium and high in potassium. A 3-ounce portabella cap has more potassium than a banana. They have essentially no fat and no cholesterol. • The best news about mushrooms is a powerful micronutrient called ergothioneine, an antioxidant and anti-inflammatory. Cooking releases this powerful nutrient from the mushroom cells.
• Mushrooms have high levels of polyphenols that give them a higher antioxidant level than green pepper and zucchini.
• Commonly available mushrooms like white button mushrooms, portabella mushrooms, shitakes and creminis may contain very small amounts of agaritine, which may be carcinogenic in extremely high doses. Cooking removes the agaritine, so try to eat cooked mushrooms.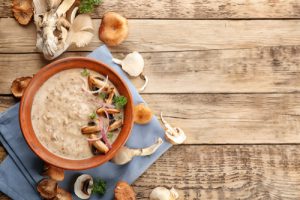 Recommendations
• If you buy canned mushrooms, be careful of added sodium. Mushrooms naturally have no sodium. Choose fresh or dried mushrooms when possible.
• Store mushrooms unwashed in a paper bag in the fridge. If bought packaged in plastic, transfer them to a paper bag or cover the tray with a paper towel.
• When choosing mushrooms at the market, look for dry mushrooms with smooth caps, firm gills and a fresh smell.
• Don't soak mushrooms in water. They are very porous and absorb water quickly.
• Clean mushrooms with a quick rinse and wipe with a damp cloth.
• Don't peel mushrooms. Cut off the firm, dark areas of the stems.
• Avoid eating mushrooms raw – even if they are on the salad bar. Cooking unlocks more nutrients and safely degrades any trace of agaritine.