Each month, we're highlighting a superfood and sharing a delicious recipe. This month, we feature watermelon.
Here are some of watermelon's best assets: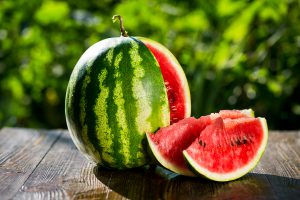 Vitamin A
Important for optimal eye health and boosting immunity by enhancing the infection-fighting actions of white blood cells.
Vitamin B6
Helps the immune system produce antibodies to fight many diseases. Vitamin B6 helps maintain normal nerve function and form red blood cells. The body uses it to help break down proteins. The more protein you eat, the more vitamin B6 you need.

Vitamin C Bolsters the immune system's defenses against infections and viruses, and can protect a body from harmful free radicals that accelerate aging and conditions such as cataracts.
Fast Facts
~ Watermelon is about 92 percent water, making it a good thirst quencher and diuretic.
~ High amounts of vitamin C and beta-carotene can reduce the risk of heart disease, improve asthma conditions, reduce the risk of colon cancer and alleviate some symptoms of osteoarthritis and rheumatoid arthritis.
~ Watermelon is a concentrated source of the carotenoid lycopene, which has antioxidant and cancer-preventing properties.
~ One watermelon can feed up to three dozen people.
~ According to a 2010 study by the Perishables Group, watermelon ranks #1 on the list of budget-friendly fruits at only 14¢ per serving.
~ More than 300 varieties of watermelon are cultivated in the United States and South America.
Flank Steak with Grilled Mango and Watermelon Chutney
Steak:
1T brown sugar
1t salt
3/4t ground cumin
3 cloves garlic, minced
1 (1 - 1/2-pound) flank steak, trimmed
Cooking spray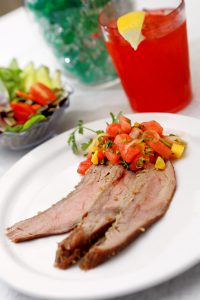 Chutney:
2 peeled ripe mangoes, cut into quarters (about 1 pound)
1t olive oil
1c thinly vertically sliced onion
1t minced peeled fresh ginger 1/3/ cup cider vinegar
2T brown sugar 2T fresh lime juice
1/4t salt
1/4t ground red pepper
2c finely diced seedless watermelon (about 3/4 pound)
1-1/2T chopped fresh cilantro
1-1/2T chopped fresh mint mint sprigs (optional)
Lime wedges(optional)
To prepare the steak, combine the first four ingredients. Sprinkle the steak evenly with the sugar mixture. place the steak on a heated grill rack coated with cooking spray; grill for 8 minutes on each side or until desired degree of doneness. Let stand 10 minutes. Cut steak diagonally across the grain into slices.
To prepare the chutney, place the quartered mango on a grill rack coated with cooking spray; grill 4 minutes on each side. Cool and chop. Set aside.
Heat oil in a small saucepan over medium-high heat. Add onion; saute 4 minutes. Add ginger; saute 1 minute. Add vinegar, 2T of sugar, juice, 1/4t of salt and pepper; cook 5 minutes or until liquid almost evaporates. Stir in mango; cook 1 minute. Remove from heat. Stir in watermelon, cilantro and mint. Add mint sprigs and lime wedges, if desired.