Oranges are a healthy source of fiber, vitamin C, thiamine, folate and antioxidants. Winter is peak orange season and, unlike other fruit, they do not ripen after picking. You should store oranges at room temperature away from direct sunlight.
Benefits
High in Fiber
One large orange contains approximately 18 percent of the reference daily intake. Dietary fiber can improve digestive health, aid in weight loss and lower cholesterol.
Boost Immune Systems
One large orange provides more than 100 percent of RDI of vitamin C, which protects against immune system deficiencies, cardiovascular diseases, prenatal health problems, eye diseases and skin wrinkling.
Useful in Pregnancy
Also known as vitamin B-9 or folic acid, folate fuels rapid growth and helps prevent neural tube defects during in the fetus during pregnancy.
High in Potassium
Oranges have potassium, a lot of which is useful in lowering blood pressure and reducing the risk of heart disease.
Prevent Kidney Stones
Oranges are a good source of citric acid and citrates, which may help prevent kidney stone formation.
Prevent Anemia
Although oranges are not a good source of iron, they are an excellent source of organic acids, such as vitamin C and citric acid. Both vitamin C and citric acid can increase the body's absorption of iron from the digestive tract. When eaten with iron-rich food, oranges may help prevent anemia.


Baked Orange Chicken and Broccoli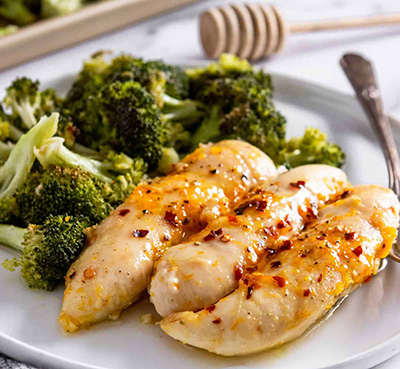 Ingredients
3 lb chicken tenderloins
1/3 c honey
Zest of one orange
2 T orange juice, fresh-squeezed
1-2 garlic cloves, minced
¼ tsp crushed red pepper
1-inch ginger, grated
½ tsp pepper
2 large broccoli heads
3 T olive oil
¼ tsp sea salt
½ tsp garlic powder
Instructions
1. Preheat oven to 400°F.
2. In a small bowl, whisk together honey, orange juice, orange zest, 1 T olive oil, ginger, garlic cloves, red pepper, sea salt and pepper. Place chicken in a medium bowl. Season with salt, pepper and garlic powder as desired. Pour marinade over top and toss to evenly coat.
3. Cut stems from broccoli and break into florets. Mix with 2 T olive oil, a dash of sea salt, ½ tsp garlic powder and cracked pepper to coat the broccoli. Spread the broccoli out to the edges of the pan. Add the chicken to the center of the pan and pour remaining marinade on top.
4. Place in the oven and bake for about 20 minutes or until chicken reaches an internal temperature of 165°F. When you pull out the pan, some extra liquid may be on it. Blot it with a paper towel or pour it gently off the side.
5. Serve with rice if desired. Add an extra drizzle of honey and a garnish of red pepper when serving.
Nutrition (Per Serving, Serves 4) Calories: 468cal | Carbohydrates: 36g | Protein: 47g | Fiber: 4g | Sugar: 27g | Total Fat: 16g Saturated Fat: 3g | Cholesterol: 127mg | Sodium: 285mg