Fennel is a Mediterranean plant that is popular all over the world. It has a pale bulb and long green stalks and can grow almost anywhere. All parts of the fennel plant are edible.
Benefits
Bone Health
The vitamin and mineral content in fennel contribute to building and maintaining bone structure and strength. Vitamin K is also important, as it modifies bone matrix proteins, improves calcium absorption and may reduce excretion of calcium in urine.
Heart Health
The fiber, potassium, folate, vitamin C, vitamin B-6 and phytonutrients in fennel, coupled with its lack of cholesterol, all support heart health. Fennel also contains significant amounts of fiber, which decreases the risk of heart disease.
Cancer
Selenium is a mineral found in fennel but not in most other fruit and vegetables. It contributes to liver enzyme function and helps detoxify some cancer-causing compounds in the body. Selenium can also prevent inflammation and decrease tumor growth rates.
Metabolism
Fennel is a source of vitamin B-6, which plays a vital role in energy metabolism by breaking down carbohydrates and proteins into glucose and amino acids. These smaller compounds are more easily used for energy within the body.
Skin
Raw fennel is an excellent source of vitamin C. Vitamin C is essential to collagen, the support system of the skin, and works as an antioxidant to help prevent damage caused by the sun, pollution and smoke.
Pasta with Fennel, Kale and Lemon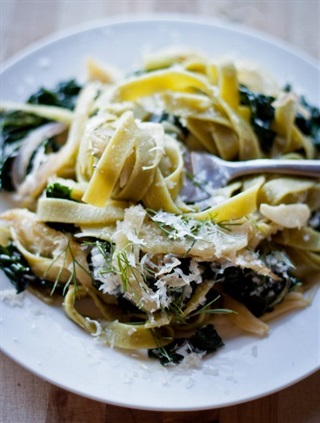 INGREDIENTS
2-3 T extra virgin olive oil
1/2 large red onion, thinly sliced
2 fennel bulbs (tough outer layer removed and fronds reserved), thinly sliced
3 large garlic cloves, finely slivered
2-3 large pinches red pepper flakes
1 large bunch of lacinato kale, tough stems removed and roughly chopped
Juice of one lemon
10 oz of spinach fettuccine
Kosher salt
Freshly ground black pepper
GARNISHES
Parmigiano-Reggiano cheese, grated
Fennel fronds
Chili pepper oil (optional)
INSTRUCTIONS
Put a large pot of well-salted water on to boil.
Heat the olive oil in a large frying pan over low heat. Add the onion and cook gently for five minutes, or until the onions are beginning to soften.
Turn up the heat to medium, add the sliced fennel and saute gently for an additional six to eight minutes, or until the fennel is tender and slightly caramelized. Add the garlic and red pepper flakes and continue to cook, stirring frequently, for another minute or two. Turn off the heat.
When the fennel is almost cooked, add the pasta to the pot of boiling water and cook until al dente, adding the kale to the pasta pot about two to three minutes before the pasta is done cooking.
Drain the pasta and greens thoroughly (reserving 1/2 cup of cooking water) and toss with the onion and fennel mixture in the pan – adding pasta water if necessary. Add the lemon juice, season with salt and pepper, and serve immediately.
Drizzle each serving with chile oil, fennel fronds and a lot of grated Parmigiano-Reggiano.
NUTRITION INFORMATION
Yield: 3
Serving Size: 1
Amount Per Serving: Calories: 330; Total Fat: 20g; Saturated Fat: 3g; Trans Fat: 0g; Unsaturated Fat: 16g; Cholesterol: 1mg; Sodium: 351mg; Carbohydrates: 34g; Fiber: 8g; Sugar: 7g; Protein: 9g