Bell peppers, also called sweet peppers or capsicums, can be eaten either raw or cooked. They come in various colors, such as red, yellow, orange and green. Bell peppers are low in calories and exceptionally rich in vitamin C and other antioxidants, making them an excellent addition to a healthy diet.
Health Benefits
Vitamin C: One medium-sized red bell pepper provides 169 percent of your daily intake for vitamin C, making it one of the richest dietary sources of this essential nutrient.
Vitamin B6: Pyridoxine is the most common type of vitamin B6, which is important for the formation of red blood cells.
Vitamin K1: A form of vitamin K, also known as phylloquinone, K1 is important for blood clotting and bone health.
Potassium: This essential mineral may improve heart health.
Folate: Folate has a variety of functions in your body and adequate folate intake is important during pregnancy.
Vitamin E: A powerful antioxidant is essential for healthy nerves and muscles.
Mexican Roasted Chicken with Potatoes and Peppers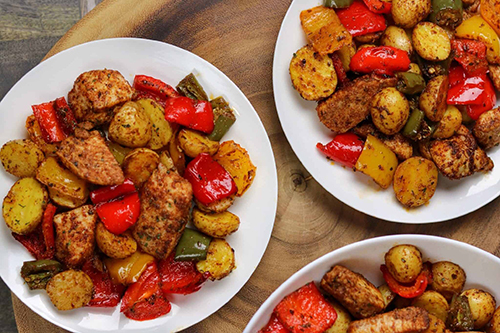 Serves 6
Ingredients
Seasoning Blend
2 tsp chipotle chili powder
2 tsp garlic powder
2 tsp ground coriander
2 tsp Kosher salt
2 tsp dried oregano
1/2 tsp ground cinnamon
Vegetables
1-1/2 lb baby potatoes
2-3 bell peppers
2-3 jalapeño peppers
2 T olive oil
1/2 of the seasoning blend
Chicken
1-1/2 lb boneless skinless chicken breast, diced
1 T olive oil
1/2 of the seasoning blend
Instructions
1. Preheat an oven to 400°F and mix the seasoning blend in a bowl. Set aside.
2. Cut potatoes and peppers and place in a large bowl. If the baby potatoes are large, quarter them. Toss with 2 tablespoons of olive oil before coating in half the seasoning blend. Bake the vegetables on a large baking sheet for 10 minutes while preparing the chicken.
3. Toss the diced chicken breast in oil before coating in remaining seasoning blend.
4. Once prepped, push the vegetables to the sides of the baking sheet, creating space for the chicken in the center or use a separate baking sheet.
5. Bake for 16 to 20 minutes until the chicken reaches an internal temp of 165°F. Serve with fresh cilantro and lime wedges.
Nutrition Information
Per Serving
Calories: 280; Total Fat: 8g; Carbohydrates: 23g; Protein: 29g