Many cuisines, most notably Mediterranean, Middle Eastern and Southeast Asian, use spinach because it's inexpensive and easy to prepare. According to the United States Department of Agriculture, a 1/2 cup serving of spinach contains 28.1 micrograms of vitamin C, 34 percent of the daily recommendation.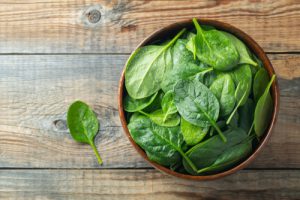 Health Benefits
Diabetes Management
Contains an antioxidant known as alpha-lipoic acid, which lowers glucose levels, increases insulin sensitivity and prevents oxidative, stress-induced changes in those with diabetes.
Cancer Prevention
Effectively blocks the carcinogenic effects of heterocyclic amines, which result from grilling food at high temperatures.
Asthma Prevention
Is an excellent source of beta-carotene, which may reduce the risk of developing asthma.
Blood Pressure
Has a high amount of potassium. Low potassium intake may be as significant a risk factor for developing high blood pressure as a high sodium intake.
Digestive Regularity
Is high in fiber and water to help prevent constipation and promote a healthy digestive tract.
Skin and Hair
Has a lot of vitamin A, which moderates the production of oil in skin pores and hair follicles and is necessary for the growth of all bodily tissues. It also helps build and maintain collagen. Iron-rich foods, such as spinach, may prevent hair loss.

Sautéed Spinach
Servings: 6
65 calories
Ingredients
2 T extra-virgin olive oil 4 cloves garlic, thinly sliced 20 oz fresh spinach, 1 T lemon juice, ¼ tsp salt, ¼ tsp crushed red pepper
Directions
1. Heat oil in a Dutch oven over medium heat. Add garlic and cook until it begins to brown, 1 to 2 minutes.
2. Add spinach and toss to coat. Cover and cook until wilted, 3 to 5 minutes.
3. Remove from heat and add lemon juice, salt and crushed red pepper. Toss to coat and serve immediately.
Note: The sturdy texture of mature spinach is best for cooked dishes. Serve tender, mild-flavored baby spinach raw or lightly wilted. Use baby or mature spinach in this recipe (10 oz trimmed mature spinach equal about 10 cups raw spinach; 10 oz baby spinach equals about 8 cups raw spinach). Remove tough stems from mature spinach before use.