Denise Goodin, administrative assistant in Utilization Management at Lexington Medical Center, knows the struggles parents of at-risk youth face. It's why she started Reconnecting Villages in 2014. This 501(c)(3) organization provides hope and support for families with misguided children by offering them emotional support, resources and guidance.
"I know the uncontrollable, directionless anger and self-destructive behavior some at-risk youth display. I also know the hopelessness of their parents - those who feel alone, lost, powerless. I know because I have been the lost child and the helpless parent," said Denise.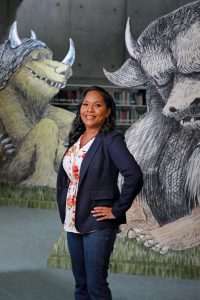 In her teenage years, Denise ran away from home and spent time in the juvenile justice system. She also had a child who faced similar difficulties. These experiences inspired her to support other families and help them regain control over their families' success.
"We work with families to help them define new goals for their children and themselves. Helping a family transition from a critical lifestyle to a more productive one creates a greater chance that the family will be more productive in the community," she said.
Reconnecting Villages is improving those odds. According to Denise, communities are benefiting from the increased productivity of these children and reducing the amount of resources used to control their negative behaviors.
"Serving your community means providing resources within your means to benefit the well-being of those around us. If a community is able to use less resources, such as police officers and school administrators, because we provide parents with the support they need to regain control, then those resources can be used to solve other problems," said Denise.
Her commitment to others reaches into other areas as well. She is actively involved in her church, serves as a certified life coach and volunteers with the Department of Juvenile Justice in the Juvenile Probation department.
"We all have special talents or gifts from God. They are not given to us for our own use, but to enrich the lives of others."
Looking ahead, Denise plans to build and cultivate relationships between Reconnecting Villages and other nonprofit organizations in the Midlands.
"We hope to become a 'one-stop shop' resource center that provides support or referrals for families in crisis."