One of the easiest ways to get active is walking. For most people, it's safe, easy to stick with, low-cost and doesn't require any special skills or equipment. For such a simple activity, it has many benefits, including:
Reduces the risk of serious diseases like heart disease, stroke, diabetes and several types of cancer.
Eases joint pain
Promotes weight loss
Boosts mood
In fact, walking is "the closest thing we have to a wonder drug," in the words of Dr. Thomas Frieden, former director of the Centers for Disease Control and Prevention.
The Midlands is blessed with an abundance of great walking trails - each with its own unique features and level of difficulty. Choose one and get started walking your way to good health!
Trail Systems
Congaree National Park
The park has 11 trails that cover a total of 46 miles and ranging from short, easy boardwalks to difficult, backwoods trails. The terrain is generally very flat with only slight elevation changes.
Harbison State Forest (Irmo)
Trails ranging from easy loops to difficult and back-style trails. Elevation changes in moderate to difficult trails.
Palmetto Trail
Trailheads located in Peak and Pomaria with scenic views of bridges and wildlife.
Sesquicentennial State Park (Northeast Columbia)
Easy loop trails that are two to four miles long.
Sumter National Forest (Whitmire/Clinton)
Longer trails and loops with moderate difficulty.
Single Trails
Riverbanks Zoo - Lexington Medical Center "Be Well" Walking TrailEnjoy nature along this one-mile trail that winds through the zoo and be treated to some "wild" sights and sounds along the way.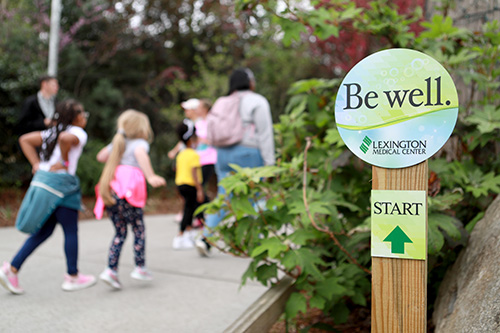 Riverfront Park
A popular jogging/walking trail runs 2.5 miles along the linear park and offers wonderful views of the river. Riverfront Park also includes an outdoor gym which features seven pieces of equipment including a lat pull down and vertical press, a rower, a 2-person wheelchair accessible chest press, a 4-person leg press, an elliptical cross trainer, 4-person pendulum and 3-person static combo.
Guignard Clay Quarry Loop/Congaree Creek Heritage Preserve (West Columbia)
Flat loop trail 2.5 miles long.
Peachtree Rock Trail (Lexington)
Only 30 minutes away from downtown Columbia, S.C., Peachtree Rock Heritage Preserve feels like a trip back in time. Layered sandstone formations, riddled with the fossils of ancient marine creatures, crop up on either side of the well-kept trails. The park trails is a 2.4-mile loop with moderate elevation increase and a waterfall.
Saluda Shoals Park (Irmo)
3.4-mile trail that's good for all levels.
Shealy's Pond Trail (Lexington)
1.7-mile loop trail
Three Rivers Greenway Trail (West Columbia)
The River Alliance's Three Rivers Greenway project has already opened 12.5 miles of pathway along the area's rivers. Lighted and paved trails equipped with emergency call boxes, bathroom areas and water fountains, wind through the cities of Columbia, West Columbia and Cayce.
Timmerman Trail (Cayce)
3.5-mile paved trail: Need to stay hydrated? Look for the Be Well water filling station.