One cup of blueberries provides 24% of a person's recommended daily allowance of vitamin C. Blueberries are a nutritious, delicious berry used in a variety of meals. Many studies suggest that eating more blueberries decreases the risk of obesity, diabetes, heart disease and overall mortality. Plant foods, such as blueberries, may also promote hair and skin health, increased energy and weight management.
Health Benefits
Bones Blueberries contain iron, phosphorous, calcium, magnesium, manganese, zinc and vitamin K. Each make up bone. Adequate intake of these minerals and vitamins contributes to building and maintaining bone structure and strength.
Skin Collagen is the support system of the skin. It relies on vitamin C to help prevent skin damage caused by the sun, pollution and smoke. Vitamin C may also improve collagen's ability to smooth wrinkles and enhance overall skin texture.
Blood Pressure Maintaining low sodium levels keeps blood pressure at a healthier level. Blueberries are sodium-free and contain potassium, calcium and magnesium. Some studies show that higher blood pressure is associated with diets low in these minerals.
Diabetes People with type 1 diabetes who eat high-fiber diets have low blood glucose levels, and people with type 2 diabetes who eat the same diet may have improved blood sugar, lipid and insulin levels. One cup of blueberries contributes 3.6g of fiber.
Heart Disease The fiber, potassium, folate, vitamin C, vitamin B6 and phytonutrients in blueberries support heart health. Fiber helps to reduce the total amount of cholesterol in the blood and decreases the risk of heart disease.
Cancer Vitamin C, vitamin A and various phytonutrients in blueberries are powerful antioxidants that may help protect cells against damage from disease-linked free radicals. Blueberries also have folate, which plays a role in DNA synthesis and repair.
Mental Health Population-based studies show that consuming blueberries is connected to slower cognitive decline. Studies also found that blueberries can improve a person's short-term memory.
Weight Management The fiber in blueberries helps to prevent constipation and maintain regularity for a healthful digestive tract. Dietary fiber is also commonly recognized as important for weight loss and weight management by functioning as a "bulking agent" in the digestive system. High-fiber foods make a person feel full and reduce appetite.
Grilled Chicken with Blueberry Tarragon Sauce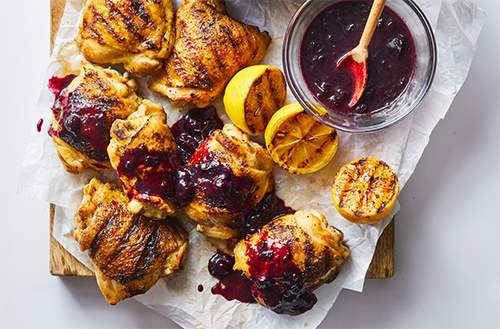 Ingredients
2 c blueberries
3 T fresh tarragon, chopped
3 garlic cloves, minced
½ c dry red wine or pomegranate juice
½ c chicken broth
2 T honey
8 skin-on, bone-in chicken thighs
2 tsp smoked paprika
¼ tsp salt
¼ tsp ground black pepper
2 lemons, halved
8 c zucchini noodles
1 T olive oil
Step 1: For blueberry tarragon sauce, in a large saucepan, combine blueberries, 2 tablespoons of tarragon, garlic, wine, broth and honey. Bring to a boil and reduce heat. Simmer, uncovered, 30 minutes or until sauce reduces to about 1-¼ cups. Season with salt and ground black pepper.
Step 2: While the sauce simmers, season chicken thighs with paprika and ¼ teaspoon each of salt and ground black pepper. Grill chicken, covered, over indirect heat for 30 minutes or until 175°F, turning once. Add lemon halves to grill rack directly over heat for the last 5 minutes.
Step 3: To serve, toss zucchini noodles with 1 tablespoon of olive oil, remaining tarragon, ½ teaspoon of salt, and ¼ teaspoon of ground black pepper. Serve chicken with zucchini noodles, lemon halves and sauce.