This month, 26 new doctors from around the country arrived at Lexington Medical Center as they begin residencies to be board-certified physicians as the inaugural class of the hospital's Graduate Medical Education program.
"As the only local, independent hospital in the Midlands, Lexington Medical Center is committed to creating a healthier future for our communities and the state of South Carolina," said Tod Augsburger, president and CEO. "Our Graduate Medical Education program will help us ensure our friends, families and neighbors continue to have access to the highest quality care for years to come."
In addition to caring for patients in the hospital, Lexington Medical Center will use a clinic-first model with its Family Medicine Residency and Transitional Year programs. Residents spend two weeks on hospital rotations, then two weeks providing supervised in-office patient care throughout their training years. The residents will see those patients at Lexington Family Medicine in a new 45,000-square-foot building on the hospital campus in West Columbia that also includes instructional and clinical space and allows for growth of programs.
Doctors in the hospital's new Family Medicine Residency Program will be at Lexington Medical Center for three years as they acquire knowledge and skills necessary for independent practice.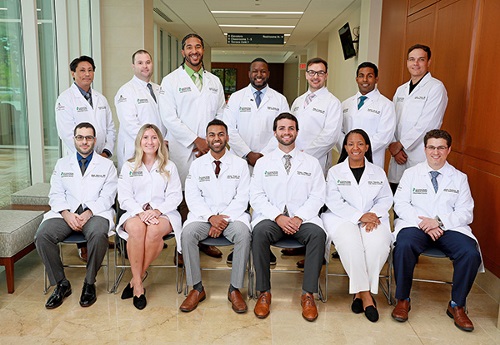 Family Medicine residents: (front row, left to right) Mark Morcos, MD; Madison Gambrill, MD; Jimmy Sojan, DO; Thomas Wallace, DO; Valerie Thimothee, MD; Justin Fichtner, MD; (back row, left to right) Richard Urbano, MD; Chip Witherspoon, MD; Justin Fox, DO; Shepherd Drayton, MD; Thomas Sanchez, MD; Roshan Jacob, MD; Jordan Parker, MD
One of them is Jordan Parker, who grew up in Orange County, California, and received his Doctor of Medicine at the University of California-Riverside.
"I liked this area, region and state. The hospital had a very positive feel, and a welcoming and warm environment," he said. "I chose family medicine because I like longevity of care, being there for patients during their most vulnerable times and building long-term relationships with them."
Susan J. Hulsemann, MD, is the designated institutional official and program director of the Family Medicine Residency Program, as well as program faculty.
"It's an exciting time as Lexington Medical Center transforms into a teaching hospital. We have an inpatient teaching service, resident physicians helping with consultations and rounding on surgical patients and newborns, and working on quality projects and research," said Dr. Hulsemann. "We have worked hard to recruit these clinicians, and our staff will work doubly hard to train them and keep them here."
Lexington Medical Center's Family Medicine Residency Program is the largest of the 17 family medicine training programs in South Carolina and increases available family medicine training opportunities in the state by more than 10%.
Resident physicians in the Transitional Year Program will be at Lexington Medical Center for one year as most will enter specialty residency programs that require a year of general training.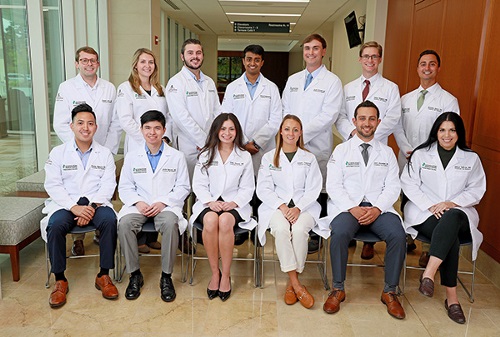 Transitional Year residents: (front row, left to right) Kenny Nguyen, MD: Justin Nguyen, MD; Holly Owens, MD; Elizabeth Thompson, MD; Joel Rosenblum, MD; Allison Sullivan, MD; (back row, left to right) Connor Lentz, MD; Marissa Boettcher, MD; Jordan Moseley, MD; Rahul Raghavan, MD; Jacob Goforth, MD; Raines Waggett, MD; Nicholas Gavin, MD
Allison Sullivan is from Greenville, South Carolina. She received her Doctor of Medicine from the Medical University of South Carolina in Charleston. When she finishes her transitional year at Lexington Medical Center, she'll continue her education in radiology at Virginia Commonwealth University in Richmond.
"I loved the idea of being part of this new program at Lexington Medical Center and helping build it," she said. "I'm looking forward to working hard and having fun with the other residents."
Scott A. McKay, MD, is the program director of the Transitional Year Program, associate program director of the Family Medicine Residency Program and a board-certified physician at Lexington Family Practice Ballentine in Irmo, South Carolina.
"The Transitional Year Residency Program staff are confident these residents will be an asset to our Graduate Medical Education program. They are a group of learners, though here for a short time, who will play an integral role in the development of educational endeavors in the coming years.
Both programs have received accreditation from the Accreditation Council for Graduate Medical Education.
For more information on Lexington Medical Center's Graduate Medical Education program, visit LexMed.com/Academics.