The University of South Carolina and Lexington Medical Center have developed a public-private partnership to address the growing nursing shortage. Lexington Medical Center is building a 50,000-square-foot state-of-the-art nursing simulation lab and teaching space on the hospital's campus to provide clinical training for UofSC's growing nursing student population.
Registered nurses are crucial to health care, but they are in short supply — especially in South Carolina. Among the reasons are an aging population, expansive roles for nurses, and high turnover made worse by pandemic burnout. In May, the college graduated 220 nurses from the Columbia campus. With this new space at Lexington Medical, UofSC will be able to graduate 400 nurses per year in the Midlands — an 80% increase annually.
The new building will be used primarily for clinical training of the university's third- and fourth-year nursing bachelor's students as well as master's program students. The university's health sciences interprofessional education program also will use classroom space.
The facility is expected to open for the first cohort of nursing students in fall 2024 with a groundbreaking expected this fall.
Lexington Medical Center will build the new nursing facility and provide clinical instructors while the university will fund equipment needed for the simulation lab as well as equipment and furnishings for classroom spaces.
"Our innovative partnership with Lexington Medical Center is great news for South Carolina residents, who will directly benefit from the training we provide to future nurses," said UofSC College of Nursing Dean Jeannette O. Andrews, PhD, RN, FAAN. "The new teaching and learning space will provide both our organizations with a win-win opportunity to help solve South Carolina's nursing shortage. We are gratified to help lead this charge for nursing workforce development and thrilled that Lexington Medical Center is investing in the future of nursing education for our state."
"South Carolina is projected to have the fourth highest nursing shortage in the country by 2030," said Melissa Taylor, RN, MSN, NE-A, BC, vice president and chief nursing officer at Lexington Medical Center. "We're excited about the impact of this partnership, which will grow the pipeline of skilled nurses for our organization and the state and give qualified individuals more opportunity to enter to the nursing profession."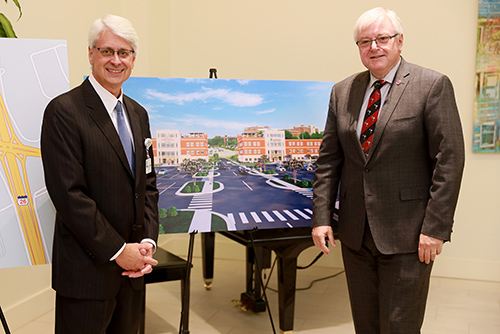 Tod Augsburger, LMC president and CEO, and UofSC President Michael Amiridis announce the partnership at a press conference on July 6.
"I applaud the vision and commitment of Dean Andrews and the leadership of Lexington Medical Center in creating greater educational experiences for our nursing students," said UofSC President Michael Amiridis. "Education in the health sciences is of great importance for the future of both the university and South Carolina. We welcome innovation, and we will continue to strengthen the academic resources that prepare our students for their future careers."
"Lexington Medical Center is excited to expand our relationship with the University of South Carolina to creatively solve the challenges of the nursing shortage. This endeavor marks the beginning of a strong partnership that will improve the health of our communities for generations," said Tod Augsburger, LMC president and CEO.