Lexington Medical Center is the first hospital in South Carolina to receive an Electrophysiology Accreditation from the American College of Cardiology for its ability to evaluate, diagnose and treat patients who come to its electrophysiology lab.
EP labs provide care for patients with arrhythmias, which are irregular heartbeats. Patients with arrhythmias may have hearts that beat too quickly, too slowly or with an irregular rhythm. Electrophysiologists are experts in treating problems with the heart's electrical system. They employ treatments such as cardiac ablation and implantable devices such as pacemakers and implantable cardioverter defibrillators.
"Our team of nurses, technicians, and physicians from multiple areas and levels of care within Lexington Medical Center have worked diligently for the past decade to create a program that provides safe and effective treatment of patients with heart rhythm disorders with excellent outcomes," said
William W. Brabham, MD, FHRS
, medical director of electrophysiology at
Lexington Medical Heart and Vascular Center
. "This is a significant milestone for our program, and we all look forward to providing state-of-the-art EP care to our community for years to come."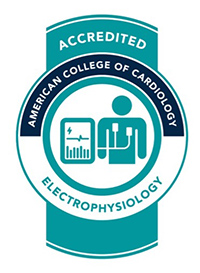 Hospitals receiving Electrophysiology Accreditation from the ACC must take part in a multi-faceted clinical process that involves completing a gap analysis; examining variances of care; developing an action plan; a rigorous onsite review; and monitoring for sustained success. Improved methods and strategies of caring for patients include streamlining processes, implementing guidelines and standards, and adopting best practices in the precise care of EP lab patients. Facilities that achieve accreditation meet or exceed an array of stringent criteria and have organized a team of doctors, nurses, clinicians and other administrative staff that earnestly support the efforts leading to better patient education, improved patient outcomes, and more effective and efficient disease control.
Lexington Medical Center has demonstrated its commitment to providing the Midlands of South Carolina with excellent heart care," said Deepak L. Bhatt, MD, MPH, FACC, chair of the ACC Accreditation Management Board. "ACC Accreditation Services is proud to award Lexington Medical Center with Electrophysiology Accreditation.
The ACC offers hospitals in the United States and abroad access to a comprehensive suite of cardiac accreditation services designed to optimize patient outcomes and improve hospital financial performance. These services are focused on all aspects of cardiac care, including the EP lab.
Lexington Medical Heart and Vascular offers comprehensive cardiovascular care. It has also received a three-star rating – the highest rating possible – from the Society of Thoracic Surgeons for coronary artery bypass surgery, aortic valve surgery and mitral valve repair. For more information, visit LexMed.com/HVC.