You've just had heart surgery, and now your doctor wants you to start exercising. Seriously?
Yes, says Heather Long, Lexington Medical Center Cardiac and Vascular Rehabilitation. In fact, one of the best therapies after heart surgery or a heart attack doesn't come in a pill. It's a structured, supervised exercise and educational program called cardiac rehabilitation.
People with a history of heart attack (myocardial infarction), angioplasty or stenting, heart valve surgery, stable chest pain (angina), heart failure and heart bypass surgery (CABG) can most benefit from cardiac rehabilitation, which can reduce death rates by 34 to 46 percent compared to non-participants. But what is it?
Cardiac rehabilitation is a medically supervised program designed to optimize a cardiac patient's physical, psychological and social functioning. It can also stabilize, slow or even reverse the progression of cardiovascular disease.
According to Heather Long, there are three phases of cardiac rehabilitation.
"Phase I takes place while the patient is still in the hospital. Phase II is the outpatient program, and Phase III is a maintenance program that lasts for three months."
Each phase helps participants manage all cardiovascular-related risk factors, such as cholesterol, blood pressure, diabetes, obesity, lack of safe and effective exercise, unhealthy eating habits, depression, anxiety, anger, social support and smoking cessation. Cardiac rehabilitation also takes a person's psychology into account, evaluating his or her emotion as it affects the heart condition.
Long says, "It's normal to have some anxiety, stress, or depression after a heart attack or heart surgery. Heart-healthy aerobic exercise offered through cardiac rehab programs can help improve mood and depression. Having a positive outlook during the recovery and rehab process is necessary to help recover physically, emotionally, and mentally. Cardiac rehab also offers support and education to help reduce the normal stresses associated with a cardiac event or hospitalization, such as teaching patients relaxation techniques."
At Lexington Medical Center, a care manager follows a patient's progress throughout the program and assists the patient in achieving his or her goals. Participants also have free access to a registered dietitian.
Benefits of Cardiac Rehabilitation
Reduced symptoms such as chest pain, shortness of breath and fatigue
Increased energy, exercise capacity and ability to do daily activities
Decreased bad cholesterol and increased good cholesterol
Increased ability to handle stress in healthy ways
Decreased triglycerides (a blood fat)
Reduced chance of experiencing another cardiac incident or procedure
Quicker return to work and leisure activities
Reduced hospitalizations
Improved quality of life
Improved sleep habits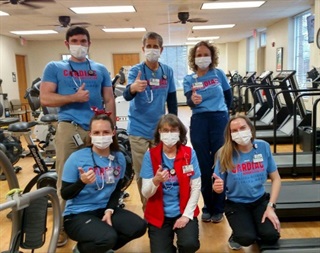 Lexington Medical Center Irmo Cardiac Rehab team celebrates 2021 National Cardiac Rehabilitation Week