Rutabaga is a vegetable that boosts the taste of dishes, and many cultures incorporate it into staple foods or national delicacies. A healthy alternative to potatoes, rutabaga doesn't have as many "empty" carbohydrates and provides a wide range of minerals and vitamins that benefit overall health.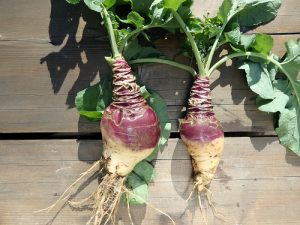 Benefits
Anti-cancer Properties
Perhaps the most important function of rutabaga involves its diverse composition of antioxidant compounds.
Aging
Rutabagas effectively prevent premature aging, improve eyesight and stimulate the healthy regeneration of cells.
Digestion
Rutabagas are very high in fiber, providing more than 12 percent of the daily requirement in each serving.
Immune System
Vitamin C is the major vitamin present in rutabagas, and a single serving contains more than half of the required daily allotment of vitamin C, which is essential for many bodily processes, including stimulating the immune system to produce white blood cells.
Blood Pressure
The potassium in rutabagas can help lower blood pressure by reducing the stress and contraction of blood vessels.
Other health benefits include osteoporosis and diabetes prevention, enzymatic function improvement, increased metabolism and weight loss.
Recipe: Turkey Meatloaf and Mashed Rutabaga with Sour Cream & Dill
Turkey Meatloaf (Servings: 6)
Meatloaf Ingredients
1 1/2 pounds ground turkey
1 c breadcrumbs (or almond flour)
1 c shredded onion
3 garlic cloves, minced
3/4 c carrots, shredded
1/2 c fresh spinach, chopped
1/3 c mozzarella cheese, shredded
1/4 c ketchup
1 T parsley, chopped
2 eggs
1 T Worcestershire sauce
1 1/4 tsp salt
1/2 tsp pepper
Glaze Ingredients
1/4 c ketchup
2 T brown sugar
1 T Worcestershire sauce
Instructions
Preheat oven to 350°. Add all ingredients in a large bowl (less the ingredients for the glaze). Using a fork or clean hands, mix until fully incorporated.
Line a sheet pan with parchment paper and put meat on the pan. Use your hands to form a loaf shape, trying to keep it level so it cooks evenly.
To prepare the glaze, mix ingredients in a small bowl.
Bake for 30 minutes, then remove and brush glaze over the meatloaf. Place back in the oven for another 30 minutes, or until internal temperature reaches 165°. Remove and let cool for 10 minutes before serving. Sprinkle with chopped parsley to garnish.
Mashed Rutabaga with Sour Cream & Dill (Servings: 4 to 6)
Ingredients
2 to 3 lb of rutabaga, peeled and chopped into 1-inch pieces
Salt and black pepper
2 tsp butter
1/4 c to 1/2 c full-fat sour cream (more or less to taste)
2 T fresh dill or chives, chopped
Instructions
In a large pot, cover chopped rutabaga with about 1-inch of cold water and bring to a boil.
Add a generous pinch of salt and boil until tender or about 30 to 40 minutes. Drain and return the rutabaga to the pot.
Reduce heat to low and let the rutabaga steam for a minute or two. Mash with a potato masher.
Add butter, sour cream, and salt and pepper to taste. Before serving, mix in the chopped dill or chives.