Michael Chisholm enjoys his job as a biomedical engineer at Lexington Medical Center where he services heart-lung machines. These important pieces of equipment pump oxygenated blood through the body while the heart is stopped during open heart surgery.
But he never imagined one of the machines he checks on would be used on him.

Chisholm has had atrial fibrillation – a type of irregular heartbeat – for years. During his cardiology visits with William W. Brabham, MD, FHRS, electrophysiologist with Lexington Medical Heart and Vascular Center, Dr. Brabham also noted Chisholm's mitral valve was leaking. Over the years, the leak worsened and the valve became weaker.
Then, Chisholm began having shortness of breath. And his ankles swelled. The culprit? A failing mitral valve. One of four valves in the heart, the mitral valve regulates blood flow from the upper left chamber into the heart's main pumping chamber. He learned he needed mitral valve repair to save his life.
"In my job, I usually fix things. Now those things were going to fix me," Chisholm said.
Jeffrey A. Travis, MD, cardiothoracic surgeon at Lexington Medical Heart and Vascular Center, performed open heart surgery on the 61-year-old in January – using a heart-lung machine Chisholm had worked on just a week before.
"Mr. Chisholm had degenerative mitral regurgitation. Basically, that means his valve's elastic tissue had become stretched and thin, and no longer performed its main role of preventing blood flow from going backwards into the lungs," Dr. Travis said. "He felt so much better immediately after and returned to work much quicker than normal."
The surgery was a definite success. In fact, Lexington Medical Heart and Vascular Center's track record of positive outcomes in open heart surgery has earned it a significant honor.
For the second consecutive year, Lexington Medical Heart and Vascular Center earned three three-star ratings from The Society of Thoracic Surgeons for aortic valve replacement, coronary artery bypass grafting and isolated mitral valve replacement and repair. Three stars is the highest rating possible.
Historically, 4 to 7% of database participants in the United States and Canada achieve this prestigious designation, which recognizes quality patient and clinical outcome excellence.
The STS rating system is one of the most sophisticated and highly regarded overall measures of quality in health care, rating the benchmarked outcomes of cardiothoracic surgery programs across the United States and Canada.
"The mission of Lexington Medical Center has always been to provide high-quality health care that meets the needs of our communities, and our cardiovascular care continues to be recognized at the highest levels," said Dr. Travis. "This accomplishment underscores a large team that works tirelessly to care for our patients."
Lexington Medical Center began its complete cardiac care program in 2012 with expectations to perform about 100 open heart surgeries each year. But the program has far exceeded expectations. To date, the hospital has performed more than 4,650 open heart surgeries – an average of nearly 400 surgeries each year.
Today, Chisholm is back on the job in the Surgery department continuing the work he loves.
"I love working in a patient environment," he said. "And I feel like I'm 10 years younger."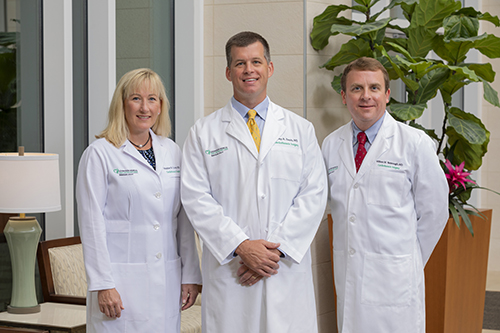 Lexington Medical Heart and Vascular Center's cardiothoracic surgeons: (L to R) Heather M. Currier, MD, FACCP; Jeffrey A. Travis, MD; and William M. Yarbrough, MD