On February 21, Lexington Medical Center and the University of South Carolina took the next steps to support the university's growing nursing student population by breaking ground on a state-of-the-art nursing simulation and teaching center on the hospital's campus. LMC expects to complete the project in 2024 and welcome USC College of Nursing students that fall.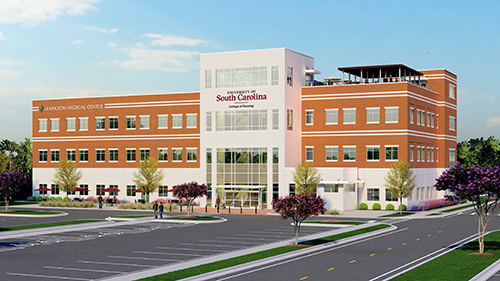 "As the only local, independent hospital in the Midlands, Lexington Medical Center has provided the highest quality care to our communities for more than 50 years, and we're excited to continue meeting the health care needs of our friends, families and neighbors, alongside the University of South Carolina," said Tod Augsburger, LMC president and CEO. "Our partnership creatively solves one of the biggest challenges facing health care today – the growing need for nurses in our workforce."
Partnerships like this one are important with registered nurses in short supply — especially in South Carolina. In May 2022, USC graduated 220 nurses from its Columbia campus. With this new space at LMC, 400 nurses will graduate per year in the Midlands — an 80% increase annually — to help meet the state's growing health care needs.
"South Carolina is projected to have the fourth highest nursing shortage in the country by 2030," said Melissa Taylor, RN, MSN, NE-A, BC, vice president and chief nursing officer at LMC. "This partnership will grow the pipeline of skilled nurses for our organization and the entire state and give qualified individuals more opportunities to enter the noble profession of nursing."
USC students are consistently in the top 1% in the U.S. for their pass rate on the National Council Licensure Examinations for Registered Nurses. The college's family nurse practitioners and adult gerontological acute care nurse practitioners also have 100% board pass rates. The college ranks no. 1 for the best graduate nursing online program overall and for veterans, according to the latest U.S. News & World Report.
"Our innovative partnership with Lexington Medical Center is great news for South Carolina residents, who will directly benefit from the training we provide to future nurses," said USC College of Nursing Dean Jeannette O. Andrews, PhD, RN, FAAN. "The new teaching and learning space will provide both our organizations with a win-win opportunity to help solve South Carolina's nursing shortage. We are gratified to help lead this charge for nursing workforce development and thrilled that Lexington Medical Center is investing in the future of nursing education for our state."
As part of this partnership, LMC will build a state-of-the-art nursing simulation lab and teaching center on the hospital's campus on Sunset Court and provide clinical instructors to help train students. USC will provide equipment for the simulation lab and classrooms, as well as furnishings. The university will primarily use the new building for clinical training of its third- and fourth-year nursing students as well as master's program students; however, the university's Health Sciences Interprofessional Education Program also will use classroom space.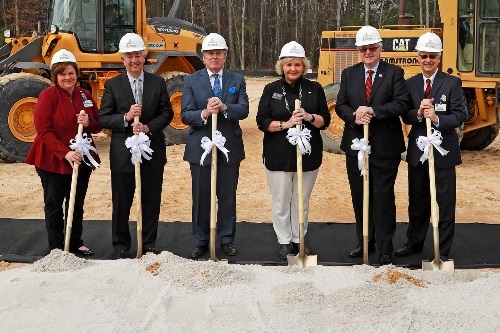 Pictured (l–r): Melissa Taylor, vice president of Patient Care Services and chief nursing officer of LMC; Senator Nikki Setzler; Donny Burkett, chair of the LMC board of directors; Jeanette Andrews, dean of the USC College of Nursing; Michael Amiridis, president of USC; and Tod Augsburger, president and CEO of LMC