Lexington Medical Center Welcomes Identical Triplets
It's something that happens in about one in a million births. And it happened at Lexington Medical Center on January 3, 2022. Ellie Min and her husband Eric Jung of Chapin welcomed identical triplet daughters. Statistics show that only four sets of identical triplets are born in the United States each year.
Newborns Sharon, Esther and Jennie weighed between 3 lb, 2 oz and 3 lb, 11 oz. Mom and babies were healthy and strong.
While reproductive technology has increased the incidence of multiples over the years, these triplets were conceived without fertility medicine or treatments. And even if triplets are conceived naturally, they're more likely to be fraternal. So, this case was one for the books.
Ellie and Eric recalled the ultrasound appointment when they learned they were expecting three babies at once.
"When they told me they saw one baby's heartbeat, I said, 'Yay!' Then, they told us there were two heartbeats. I said, 'Fun!' I always wanted twins. And then they said there was a third heartbeat. That's when I panicked and started to cry," Ellie said.
After the initial shock of learning they were about to have three babies, there were tears of joy. It was Ellie's third pregnancy. She had suffered two miscarriages before.
"We were really happy it wasn't another miscarriage," Eric said. "Three times, we prayed and prayed for a baby."
Janis E. Keeton, MD, of Lexington Women's Care Chapin, a Lexington Medical Center physician practice, took care of Ellie and the triplets throughout the pregnancy.
"Dr. Keeton encouraged me through the physically challenging moments. She has been with me through this process from the beginning," Ellie said.
Paul C. Browne, MD, FACOG, of Lexington Maternal Fetal Medicine also took care of the mom-to-be during the pregnancy. Dr. Browne specializes in high-risk obstetrics at Lexington Medical Center. Ellie credits her team of clinicians for helping her to keep the babies until week 33 of pregnancy.
"These three healthy little lives came in; they were perfect and beautiful. And the mom was healthy and the delivery went well. It was just joyous," Dr. Keeton said.
In the delivery room, Kimberly A. Stone, MD, FACOG, of Lexington Women's Care West Columbia assisted. And each triplet had her own team of caregivers just seconds after birth -- including nurses and respiratory therapists.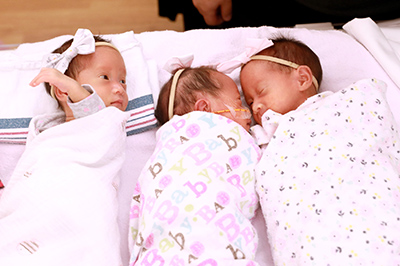 Sharon, Esther and Jennie are now receiving care in Lexington Medical Center's Special Care Nursery under the direction of neonatologists and highly skilled nurses until they're ready to go home. The new parents visit daily.
"God thinks we can take care of three girls who are triplets," Ellie said. "So, I called them Blessing 1, 2 and 3 during the pregnancy. I hope they can help other people in the world and become true blessings to the people around them."
Congratulations to the whole family!