George Rentz, the first president and CEO of Lexington Medical Center, passed away on Saturday, November 6, 2021 at the age of 96. Mr. Rentz is credited for his tireless efforts to bring an outstanding hospital to Lexington County, his understanding of the needs of community members, and his vision for the future of health care in the Midlands.
In 1968, Mr. Rentz began working as the first administrator of Lexington Medical Center, three years before the hospital opened. Known for never sitting still, Mr. Rentz gave more than 300 speeches around the Midlands to tell community members about the hospital and garner support for its success. His colleagues called him an entrepreneur and a very good salesperson.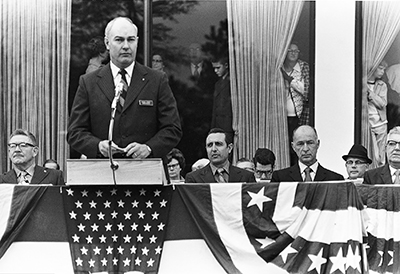 George Rentz at Lexington Medical Center opening ceremony
When Lexington Medical Center opened in 1971, Mr. Rentz was always looking for better ways for the hospital to serve the health needs of patients and thinking ten years down the road. He bought land across the county in anticipation of future growth, recognized the need for community medical centers around Lexington County so that patients would have access to health care close to home, and recruited the best physicians and nurses in the Midlands.
If needed, Mr. Rentz was willing to help with any job in the hospital – from mopping floors to cooking patients' meals. There was no job too big or too small for him. His grandchildren say humility is a character trait he always told them was extremely important.
Mr. Rentz made Lexington Medical Center the first hospital in the Midlands with all private rooms, bought the best equipment available and always went out of the way to make sure patients received the most outstanding care, treating them like family. And the culture he created of hiring the best people, providing the best services and looking to the future continues today.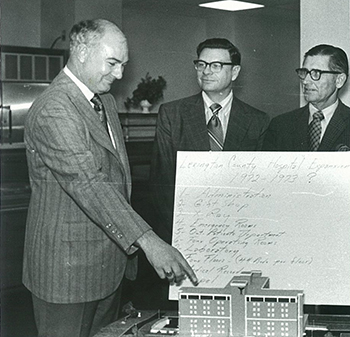 George Rentz discussing hospital expansion plans
Mr. Rentz worked at Lexington Medical Center until his retirement in 1988. It was just one of his life's accomplishments over a course of many decades.
With a courageous desire to serve his country, Mr. Rentz enlisted in the United States Army in 1943. As part of the 82nd Airborne Division in Holland, he was a paratrooper for key Allied airborne military operations. He also participated in the Battle of the Bulge and earned a Purple Heart for suffering from frozen feet in the harsh winter cold.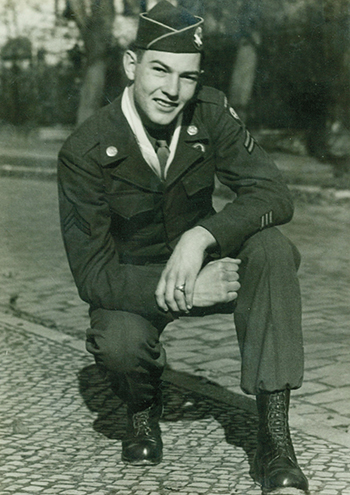 George Rentz during WWII
After returning home from the war, Mr. Rentz attended the University of South Carolina and earned a degree in Accounting. He worked in hospitals in North Carolina as well as Florence, Columbia and Loris, South Carolina. He also served as a Boy Scouts leader and Sunday school teacher for many years. He was a devoted husband, and became a father, grandfather and great-grandfather.
George Rentz lived an extraordinary life devoted to serving our community, state and country. Lexington Medical Center is thankful for the foundation he provided, example he set and culture he created. We look forward to continuing it for generations to come.