Cindy Quattlebaum manages the volunteer program at Lexington Medical Center Extended Care and participates in it, too. Her registered therapy dogs have been helping residents at the facility since 2002.
"I have volunteered all my life. I am a firm believer that everything we have belongs to God, and He deserves our service for the many blessings He give us each day," she said. Cindy volunteered with her chocolate Labrador Max before he passed away in November 2018. She now volunteers with Bear, her 11-year-old beagle mix, at Extended Care.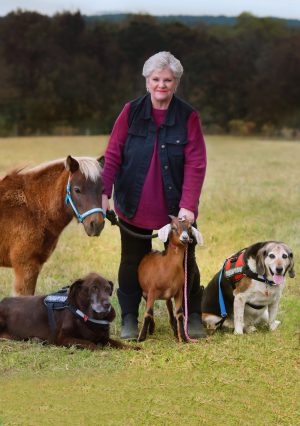 "I have loved animals all my life. They give their unconditional love, and everyone needs to know they are loved. It means so much to bring a smile to someone's face and share a little love," said Cindy.
Cindy also owns several other volunteer pets and helps run her family's farm – Breezy Hills Farm.
"We have 10 miniature donkeys, 1 miniature pony and four goats that volunteer at Extended Care. We also have cows, a rescue Mustang horse, a standard donkey and two cats at Breezy Hills Farm. Children and adults visit our animals, and we take them to birthday parties and other events. Our motto for our farm ministry is 'Sharing God's love one hoof and paw at a time.'"
Cindy started working at LMC Extended Care when it was known as Rikard Nursing Home. She has been there for more than 42 years – first as a nurse and then she started the first organized volunteer program.
There are currently more than 70 animals in the LMC Extended Care volunteer pet therapy program. To participate, contact Cindy at 996-6266 or csquattlebaum@lexhealth.org. Pet volunteers must be mild-mannered, well-behaved in different environments, and current on vaccinations, and flea, tick and heartworm prevention.