Cabbage comes in red, purple, white and green varieties with smooth or crinkled leaves. Found around the world, many cultures use it to make sauerkraut, kimchi and coleslaw. It can be served raw, roasted, steamed, boiled, sautéed, stir-fried or fermented. You can add cabbage to salads, soups, stews and slaws, too. The odor associated with cabbage comes from overcooking. The longer cabbage cooks, the stronger the odor.
Benefits
High in Vitamin C & Vitamin K
One cup of red cabbage has about 85 percent of the daily recommended value for vitamin C and vitamin K, which is the same amount in a small orange.
Excellent Source of Fiber
Cabbage is an excellent source of both soluble and insoluble fiber. Insoluble fiber helps keep the digestive tract healthy. Soluble fiber helps to lower LDL cholesterol (bad cholesterol) by binding with it and stopping it from absorbing in the blood. Soluble fiber can also help lower post-meal blood sugar levels.
Low in Carbohydrates
Cabbage is a non-starchy vegetable. It has less than 20 calories per half cup cooked or 1 cup raw. Filling up on non-starchy veggies contributes to weight loss or reducing the risk of gaining weight, which help control with blood sugar.
Low Glycemic Index
Cabbage has a GI of 10 – anything less than 55 is considered low. GI is an indicator of how fast carbohydrates raise blood glucose levels. A food with high GI means it will raise levels quicker than a food with low GI.


Blackened Fish Tacos with Cabbage Mango Slaw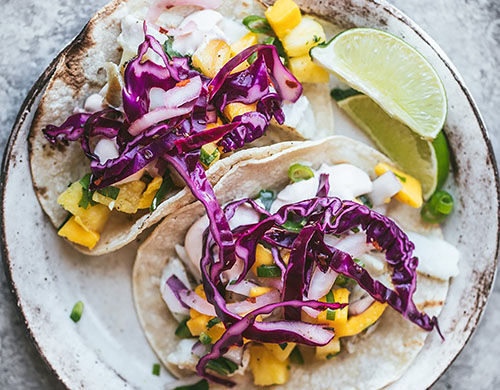 Ingredients
Slaw
3-1/2 c (1/2 small red cabbage), finely shredded
1 mango, julienned
2 tsp olive oil
1/4 c cilantro
1/2 tsp kosher salt
1 lime, juiced
Fish
1 tsp smoked paprika
1 tsp kosher salt
1/2 tsp dry mustard
1/4 tsp ground cayenne pepper (1/2 tsp for spicier)
1/4 tsp ground cumin
1/4 tsp ground oregano
1/8 tsp black pepper
1 lb skinless cod or halibut filet
1/2 lime, juiced
1/2 lime, cut into wedges
Nonstick cooking spray
8 corn tortillas
Instructions
1. Combine all slaw ingredients and refrigerate.

2. Mix dried spices and seasoning together in a small bowl, squeeze lime on the fish and then rub the seasoning onto the fish.
3. Heat a cast-iron skillet on a grill or stove on high heat until it's very hot. Spray with nonstick cooking spray. Cook fish until opaque in the center and well browned on the outside, about five minutes on each side.
4. Heat corn tortillas on the grill until they char slightly, about 1 to 2 minutes. Cut the fish into eight pieces (or flake it if easier).

5. Divide the fish equally between eight tortillas and top each one with 1/2 cup of slaw. Serve with lime wedges.
Nutrition
Per Serving: 2 tacos | Calories: 278cal | Carbohydrates: 31g | Protein: 29g | Total Fat: 5g | Sodium: 543mg
1. Combine all slaw ingredients and refrigerate.