When it comes to health, not only does Mark Stout talk the talk — he walks the walk, too. As a 29-year veteran in the field of cardiac rehabilitation, Mark embodies a healthy lifestyle.
Mark is the program supervisor at Lexington Medical Center's cardiac rehabilitation facility in Irmo.
Cardiac rehabilitation is a medically supervised, multi-disciplinary program for patients with cardiovascular disease who are recovering from a recent cardiac event. The program focuses on exercise, nutrition and stress management techniques through the help of registered nurses, exercise physiologists, dietitians, vocational counselors and a medical director.
"I have always felt if you're advising people on leading a healthier lifestyle, you need to practice what you preach," he said.
On the nutrition side, he's careful about intake of excessive fat and cholesterol.
"In 2020, my wife and I transitioned to a plant-based diet and, so far, we're really enjoying eating more fruits, vegetables and beans. Almost immediately, I noticed that my cholesterol level dropped dramatically."
Mark answered some questions about the role of cardiac rehabilitation for heart patients.
Q: Who needs cardiac rehabilitation?
A: Those who have had a recent heart attack, open heart surgery, angioplasty and stents, structural heart disease, congestive heart failure and heart transplant qualify for cardiac rehabilitation.
Q: What are the benefits of cardiac rehabilitation?
A: The benefits of cardiac rehabilitation include:
Increased muscular strength and endurance.
Improved blood pressure and heart rate.
Better management of diabetes.
Decreased body weight and body composition.
Better understanding of medications and usage, management of risk factors for heart disease and healthy nutrition practices.
Improved psychosocial status (decrease in depression, anxiety, anger, hostility).
Q: What happens in a typical cardiac rehabilitation session?
A: A typical session lasts about an hour. During the session, the patient wears a heart monitor so staff can observe his or her heart rate and rhythm at rest and with exercise. Staff check blood pressure and heart rate throughout the session along with blood glucose levels, if needed. The patient follows an individualized exercise prescription prepared by an exercise physiologist and uses various pieces of exercise equipment. Additionally, patients and their families are invited to attend classes to learn more about cardiovascular disease and effective ways to manage their risk factors.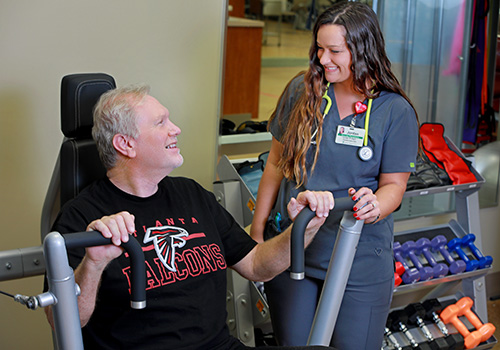 Q: How many weeks do patients attend cardiac rehabilitation?
A: After an initial interview and program orientation, participants in cardiac rehabilitation attend three days per week for approximately 12 weeks. Most insurance companies cover cardiac rehabilitation services for up to 36 sessions. We strongly encourage participants to exercise on their own at least two days per week while attending cardiac rehabilitation so when they successfully graduate, they already have a regular exercise program in place. We advise all patients to exercise at least four to five days per week and for a total of at least 150 minutes per week. Research indicates if people meet or exceed those exercise guidelines, their risk for chronic illness reduces dramatically.
Q: Working in cardiac rehabilitation, what results have you seen?
A: Overall, the biggest results are improvement in exercise capacity, management of risk factors and lifestyle modification, and the reduction in psychological issues. The physical changes in patients related to improving physical activity and exercise habits have always been a given. I think the psychological gains patients achieve through their involvement are equally important. They are around others who are dealing with the same health issues, and some participants start to feel they are not the only ones having these feelings. Healing starts with the physical portion of the program and, many times, the healing extends into the psychological arena. Bottom line: if you can return to a better you, you embrace these changes and make them part of your new lifestyle.

Lexington Medical Center has cardiac rehabilitation facilities in convenient locations throughout the Midlands.
Lexington Medical Center — Main Campus
Lexington Medical Center Lexington
Lexington Medical Center Irmo
Coming Soon: Lexington Medical Center Northeast