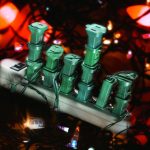 The Emergency department at Lexington Medical Center gets busy this time of year with people who hurt themselves with holiday-related injuries.
Our doctors see everything from ladder falls to cuts by glass ornaments and back sprains from lifting heavy things.
In this WLTX news report, Dr. Brenna Brucker, Emergency Medicine physician at our hospital, talks about what she sees the most and her advice for not hurting yourself.
Here are some of the most common injuries Dr. Brucker sees in our ER around this time of year: ~Falling off ladders while hanging decorations. Have someone hold a ladder from the ground whenever you are on one. ~Cuts from glass ornaments. The best bet is to keep them away from the bottom of the tree where pets or a child could knock them to the ground, shattering them. ~Outdoor deep fryer burns. Keep them away from enclosed spaces and wear safety goggles while working with them. ~Fire injuries. Fires are more common this time of year. Make sure your Christmas tree is well watered and does not have frayed lights. Also, don't use indoor lights outside. ~Allergic reactions. There's an increase in trips to the ER for people with nut allergies. ~Excess alcohol and salt. Consuming too much alcohol and salt is not good for people who have a bad heart. If you have chest pain, do not wait until the day after Christmas to go to the ER. Your family wants you to be healthy.
If you do come to the ER, Dr. Brucker advises to also bring a list of your medications.
Have a safe and Merry Christmas.