Alice Green is a cancer nurse navigator at Lexington Medical Cancer Center. She describes herself as a cancer quarterback - but to her patients, she's much more.
She's an engaged listener. An advocate. An extra set of eyes and ears. And to patients who struggle to understand and cope with a frightening diagnosis, she's a person to call when they're not sure where to turn and what to do next. She provides help, education, comfort and support from the minute they learn of their cancer diagnosis, through treatment and beyond.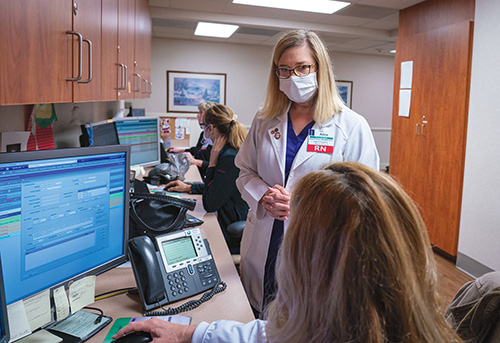 Alice talks to nurses inside Lexington Radiation Oncology about patients receiving prostate cancer treatment.
Currently, as part of Lexington Medical Center's extensive urology program, focuses on urology patients with conditions including prostate, bladder and kidney cancer. A typical day for Alice starts in her office, reviewing pathology reports, calling patients to tell them their results and talking through next steps. She also reviews the schedules of her patients, determining who is having surgery and which biopsies are being performed.
A typical day at work takes her all around the hospital campus in West Columbia. She travels up to the 6th floor of the East Tower to visit a man who underwent a prostatectomy the previous day. She advises him about medications and offers helpful advice for his recovery at home. Later, she arrives in Radiation Medicine to speak with nurses about current patients' treatments. Next, she goes to Lexington Urology, a Lexington Medical Center physician practice, where she consults with David H. Lamb, MD, FACS, about their patients.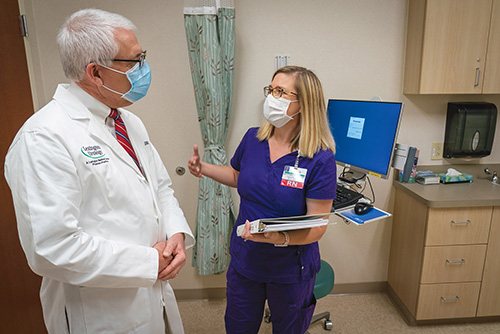 Alice speaks with David H. Lamb, MD, FACS, inside Lexington Urology at Lexington Medical Center.

"The key is to be available, whether at the start of chemotherapy or when the patient rings the bell to signal the end of treatment," Alice said. "No matter what part of treatment they're in or where they are – whether they are in the hospital, surgery, radiation or follow-up — it's nice to have one person who will always be there."
Alice works with about 30 new patients each month and still hears from patients she worked with years earlier. She is always willing to talk – or listen.
"As an oncology nurse, you feel honored to be a part of their care. I've seen people do things you never thought they could do. They fight some amazing battles and do so well," she said. "It's a wonderful profession, and it's nice to be able to do what you love."
Each day, she has the opportunity to help cancer patients work through everything that comes with a cancer diagnosis.
"It's rewarding to see patients feel confident that they understand their diagnosis. They're empowered with the knowledge we've given them and that they're confident to ask questions, knowing there's someone there if they need it. "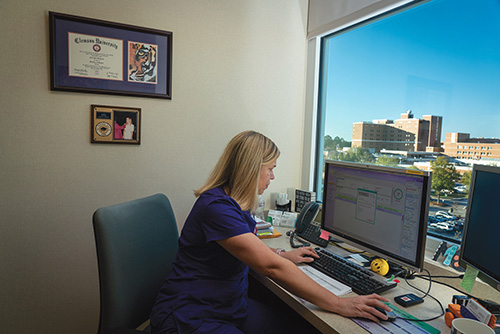 Alice reviews patient information in her office.